posted on January 15th, 2009 by
Tim Turbo
in
Audio
,
TTT Podcast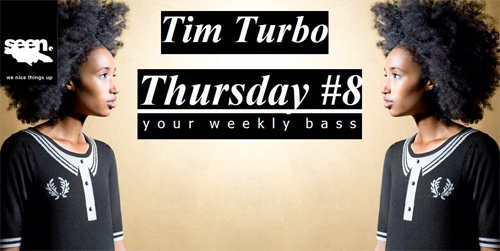 Hi kids, it's your little-lazerbass-lover Tim Turbo.
A new week, a new Tim Turbo Thursday. A lot of new bassy-bubbly tunes across genres and some stuff I rediscovered lately.
Newsflash: I got a new web-achievement on facebook: additional to the Tim Turbo Thursday group, we also got a Tim Turbo page now. Be my fan. And if you are going to check out these pages, you are online anyway and could maybe send me a tune you did, or you could subscribe to this whole thing, or tweet me a sweet tweet on Twitter.
I already got a great plan for next week, so be curious, folks, but for now: enjoy TTT #8!
Speak along: It's a thursday – Basses for the masses!
Tim Turbo Thursday #8
Audio clip: Adobe Flash Player (version 9 or above) is required to play this audio clip. Download the latest version here. You also need to have JavaScript enabled in your browser.
Jump with the jump for a tune-fi-tune-fi-tune-listing plus some more words…
01 Lil Wayne Ft Swizz Beatz – Up In The Club
My jam of the week: Jazz-hihats, steelpan-melodie, autotune – a mouth-watering (meaning ear-watering) mixture.
02 Super Cool DJ Kazu & Diplo – Sushi Chop (aka Bounce on That Yoshi)
A Diplo-produced quickie from New Orleans-based DJ Kazu. If there's anyone out there qualified to introduce the world to Japanese bounce music, I can hardly think of a better culprit than Diplo. Bounce music from NOLA will be the next big revival in '09.
03 Jahcoozi – Double Barrel Name (Siriusmo Mix)
Jahcoozi is a Berlin-based multinational trio composed of Sri-Lancan-UK MC Sasha Perera, Robot Koch and Israeli born Oren Gerlitz. Their last album was a step in the right direction. Dancehall meets Electro, but on the Electro-side of the river. Siriusmo gave the tune a more tribalish, grindcore, downbeat swagger dress. fits.
04 Tony D – Totalschaden Smells Like Totalschaden
Again it's the german Crunk-rapper Tony D. He mashs up his single "Totalschaden" with the famous Nirvana-harmonys and, as always, yells louder than the others.
05 Azealia Banks – F.L.A.P.S. (Confessions Of A Freak)
I don't know where I found this tune, but the gyal raps dirty slackness straight on a nice rolling synthie beat.
06 Heartsrevolution Ft Spank Rock – Ultraviolence
It's the newest single from New York hipsters Heartsrevolution featuring Baltimore hipsters-hipster Spank Rock who steps in to lend a hand with vocals. It's not as 'tap-that-ass' fast and furious as usual, but fits perfectly with the paranoid synthtopia of Heartsrev. And I think the chick from Heartsrevolution is cute.
07 Pase Rock – Get Money Kids (Nacho Lovers Walk Remix)
Pase Rock's "Get Money Kids" new single for Dim Mak that re-asserted his stake amongst the club-rap cognoscenti. Fool's Gold signees Nacho Lovers were welding together their own dub of the tune, cutting up Eli Escobar's production into something that jumps between fidget house and electro. The propellant timbale phrases are really what make this thing pop, so stick around till they get all crazy at the end and make sure to turn up the bass if you can. This one is "for the club".
08 T.D. – Siboney
I've been at Violet Club together some friends last weekend and I there was this tune, between all the lame, cheesy, mechanical tunes was T.D.'s "Siboney" and it was organic, alive, bubbly – lovely. Released on "We can do it" some beautiful day last year.
09 Chubby Fingers – Big John
Chubby Fingers Productions is made of four guys, who DJ as well as produce. They are into all types of quality music and they produce just that quality music, always with a big bag full of bass. Great sample.
10 StereoHoes – Washout (MiKix The Cat Remix)
The french guys of Mikix the Cat have a lot of releases forthcoming in January and March of this year plus a whole lot more before the summer. Mikix The Cat's Freeze EP on Trouble and Bass is available to buy now. Their remixes are mind bending, ass shaking, Curb Crawlers highly recommended heat.
11 Hot Pink Delorean & Fantastadon – Party Favour
Multi skilled and heavy rotating Hot Pink Delorean just dropped their very first 4 track EP as an appetizer for their upcoming 12 track LP named "What porno should be". Best tune the EP is the fidget influenced dance floor destroyer "Party Favour", made with HPD's friend Fantastadon.
12 K.I.G. – Head, Shoulders, Knees N Toes
This tune is killing the raves in UK right now! UK'S "Crank That"?
13 Supabeatz – No More Down (MiKix The Cat Remix)
French electro cuisine again. MiKix The Cat on Supabeatz with remix-sauce.
14 Le Corps Mince De Francoise – Ray-Ban Glasses (Les Gilletes Remix)
Les Gillettes sent over their latest remix for the upcoming Le Corps Mince De Françoise release, appropriately sub-titled "no shame remix" as it features some of those trance synths everybody finds embarrassing, but I like them.
15 Daniel Haaksman Presents: Bossa Do Moro – Sambura (DJ Amazing Clay Remix)
16 Daniel Haaksman Presents: Bossa Do Moro – Embolada (DJ Dinho & DJ Fu Remix)
17 Daniel Haaksman Presents: Bossa Do Moro – Agua De Beber (DJ Edgar Remix)
Baile Funk Master and Man Rec's CEO Dan Haaksman teamed up with the the cream of the crop of Funk DJ's and created this masterpiece. Dan tells the story behind!
Take care! The message is love!
Sincerely yours, Tim Turbo
---

3 comments