posted on January 8th, 2009 by
Tim Turbo
in
Audio
,
TTT Podcast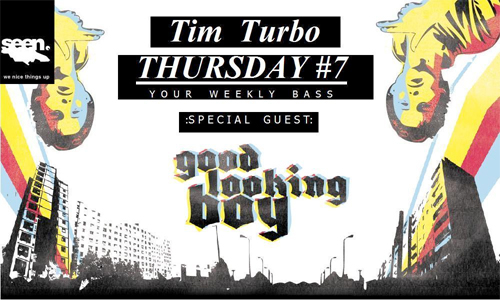 © Good Looking Boy artwork by Jannis Schulze
Hi kids, it's the Hood Crookin' Koi together with the Good Looking Boy.
I'm very proud to let you be part of a pre-listen to a bunch of straight-from-the-studio tunes by Good Looking Boy in this week's Tim Turbo Thursday. These tunes are so so straight-from-the-studio, they are not even mastered yet. I sprinkled them all over the mix, wich is heavy synthicious this week, but I think thats a welcome variety to the laid-back-style of the last one.
Things to know about Good Looking Boy: He's from Berlin/Germany. He's a exceptionally gifted guitar-player. He listens to german gangster and street rap all day. He is in love with the 808. He does bonkers Electro-banger at it's best. His EP will be out soon, called "Like Animals". Get to know him better as your digital friend and know about all the dates and news. You should definitely put him on your to-watch-for-2009-list.
In general TTT got back to the "regular" scheduled programm: I have tune-by-tune talk and a nice long mix today, no excuses like the last times. Now it's your part to go to the comment-section and say: "Yeah, tune-by-tune. Finally again! I love it! Wow! Yatta!". And if you are online right now by any chance, you could maybe send me a tune you did, like Good Looking Boy and if I like it I play it in one of my next TTTs. Or you could subscribe to our podcast, the best podcast on planet rock and never miss an episode again or join the TTT-group on facebook or tweet me a sweet tweet on Twitter.
Speak along: It's a good looking thursday – Basses for the masses!
Tim Turbo Thursday #7
Audio clip: Adobe Flash Player (version 9 or above) is required to play this audio clip. Download the latest version here. You also need to have JavaScript enabled in your browser.
Tune-by-tune-stories and poems after the jump-around…
01 Ida Corr – Ride My Tempo (Rix del Rio & PatchWorkz Remix)
Well, I'm still in deep love with Scandinavia. And this girl, Ida Corr is from the beautiful country Denmark. Usually she does some kind of synthie-black-house-r'n'b-bastard, or something like that. Rix del Rio from Copenhagen reworked her Top10-single "Ride My Tempo" and he did it good.
02 Tony D – Fiesta
Tony D (D is for damager) is Germany's only Crunk-rapper, yelling at you like your moma. He is signed at the finest german Rap label Aggro Berlin and the tune is off their new label sampler. Originally there is a woman rapping, too, but she was too lame, I had to cut her out.
03 Good Looking Boy – Mega
There we are. The first Good Looking Boy tune up in here. Ramming drums plus a vocal sample plus rampage-synthies, worked like the guitars of a full rockband. Nod you head to this, Good Looking Boy is the new Rock'n'Roll.
04 MeNeO – Mami
What do you get when you pair up Reggaeton beats with Gameboy melodies? Well, you get Meneo. A duo from Barcelona that's been spreading their music in clubs all over Europe and getting naked while doing it. Debut album on the way, mastered by the good people over at Mad Decent.
05 Good Looking Boy – Rebellion Is Over
Cathedralic organ sounds and memorable chords breed a twilight zone, until straight drums and Good Looking Boy's trademark guitar-solo-synthies shape the tune to a wild, dark party again. I'm impressed.
06 The Martin Brothers – Dum (Hookerz & Blow Short Bus Acid Mix)
This Hookerz & Blow refix of The Martin Brothers' Dub the good looking boys of Curbcrawlers snatched up from the french talking boys of Fluo Kids and now I have it. Keeping it trueschool to the original, the rework relies heavily on a big boy 808 kit and 303 acid yelps. (808 is king!)
07 Good Looking Boy – Dissrespect
Well, usually I don't play music with that much history, but this a very sociocritical track. Some things are going wrong in Berlin and Good Looking Boy is brave enough to yell it straight in their face: "I dissrespect the sound in this club!". Well done.
08 Jokers Of The Scene – Baggy Bottom Boys
Jokers Of The Scene have been killing it a bit too much lately, with one great release followed by another. This one is off the their latest Fool's Gold release, "Acid Bagg". Nothing more to say about the music, as the name stands for quality and dancefloor killers.
09 Good Looking Boy – Good Looking Boy
That's my favourite Good Looking Boy tune personally. Ingenious how he chops the vocals crisscros, bouncing in the name of the beat. You can imagine how the Hans Crew walks lined up down the street, snapping, like in "Westside Story". Black gang-jackets, girls faint, boys duck. Good Looking Boy walks in the middle of the gang, playing his guitar like a young god and all the members shout: "That's my H. A. N. S. gang, that's my gang!"
10 Pets on Prozac – Rough Ruffin (AC Slater Remix)
Give me more, more, more great scandinavian music: Pets on Prozac are from Helsink/Finland and do stupefying electro terminators. Big Brooklyn bass brother AC Slater did some witchcraft to it and now it's even better then before. Bubble bass, waving synthies, vocalsample-lettuce.
11 XRABIT + DMG$ – Follow The Leader (Club Mix)
First I was like: "Do they really copy The Cool Kids?" Yeah, they do. But there is one thing XRABIT and DMG$ do superior to Chi-towns hippest, they have proper club mixes! And you can feel the oldschool, hipster flavour in the club mix, too. Maybe check out the video, too. I like.
12 Ninjasonik vs The Count and Sinden – Hardcore Art School Girls
Ninjasonik, the skateboarding, DC hardcore-repping, Sparks-slamming, most dangerous kids in Brooklyn opened up for Sinden on some party, so they figured: "What the hell, let's just remix one of his tracks real quick." This came just days after the boys also did a video remix of The Death Set's "Negative Thinking" which they dubbed "Negative Thinking About Tight Pants". That's how you make a debut on the blogscene.
13 FUKKK OFFF – Rave Is King (Zodiac Cartel Mix)
Mystery UK producer Zodiac Cartel got busy on one of my over-the-top party anthems of the year, "Rave Is King" by Fukkk Offf. He manages to add more alcohol, more drugs, more distortion, more noise, more destruction, more overdrive to the already insane original which should make it clear once and for all, kids: Rave Is King!
14 Terry Lynn – Kingstonlogic (Kovee Remix)
Terry Lynn pocketed a lot of plaudit in best-of-lists all over the internet – rightly! For details search our nice blog here on her, Tobi got all the news. Of course it was seen.E.O. Tobi, too, who made me aware of this great remix of a different kind. Today remixing always means: "Do a bad, noisy electro-banger", thats fine with me, but it is a little bit single-way, aint it? Kovee added a nice orchestral setting to Lynn's big tune and it's just uplifting. Well done.
15 Hostage – Ain't No Man
This was one of the most surprising Christmas gifts. Hostage and Nightshifters brought us a ravetinged clubdestroyer called "Ain't No Man" for free. A hybrid of Acid-stabs and bubble basslines. Plus the great jamaican sample: "A true dready!".
16 AC Slater – Jack Got Jacked (Jack Beats Remix)
The Curb Crawlers did a great best-of-list 2008. If I would do stuff like that, this terrific AC Slater/Jack Beats collabo would have a booked place. I wobble thru the office now, telling everybody: "In the beginning there was Jack!"
17 Soulwax – Miserable Girl (Royal Rumble Edit)
L.A.'s Royal Rumble gang—the three-man no-holds-barred tag-team party posse made this edit of Soulwax's "Miserable Girl" that takes the hypest elements of it and prolongs that feeling of electro-euphoria-rock'n'roll.
+ hidden homage to Kool Savas
Take care! The message is love!
Sincerely yours, Tim Turbo
PS: Could somebody draw me a "Hood-Crookin' Koi"?
---

4 comments