posted on January 1st, 2009 by
Tim Turbo
in
Audio
,
TTT Podcast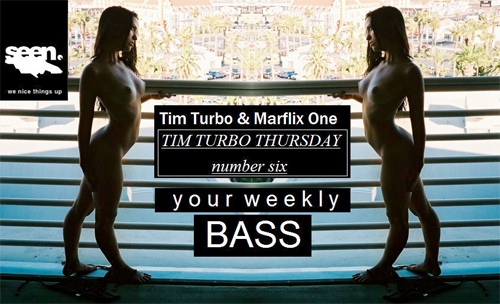 Happy new yeezy, kids, it's Tim Turbo side by side with MashUp Crew's Marflix One for the first Tim Turbo Thursday in two-oh-oh-nine.
And because it's the first day of 2009 and we all did have a a great party yesterday, I got some music to sit back and relax for you. Marflix tried the same, but in the end of his set he gone berserk and knocked the recreation on the head.
Anyway, we got two complete different sets, with a heap of different bass-music (in the broadest sense) and I hope you enjoy your home-afterhour together with us. There is no tracklist again today, because we recorded the sets at Marflix´s place. Actually that´s no excuse, but you can hear us talk at the beginning and the end of my set. Ask me in the comments for particular tune-names or ask here or here or here or here. If you are online right now at random, you could maybe send me a tune you did and if I like it I play it in one of my next TTTs. Or you could subscribe to our wonderful podcast and never miss an episode again (blablabla).
After the show it's the after party and after the party is the hotel lobby and after that we get waisted at the afterhour maybe, listening to the first 2009 Tim Turbo Thursday.
Speak along: It's 2009 – Basses for the masses!
Download Tim Turbo Thursday #6 – Tim Turbo
Audio clip: Adobe Flash Player (version 9 or above) is required to play this audio clip. Download the latest version here. You also need to have JavaScript enabled in your browser.
Download Tim Turbo Thursday #6 – Marflix
Audio clip: Adobe Flash Player (version 9 or above) is required to play this audio clip. Download the latest version here. You also need to have JavaScript enabled in your browser.
We wish you a bassy 2009!
---

3 comments