posted on December 11th, 2008 by
Tim Turbo
in
Audio
,
TTT Podcast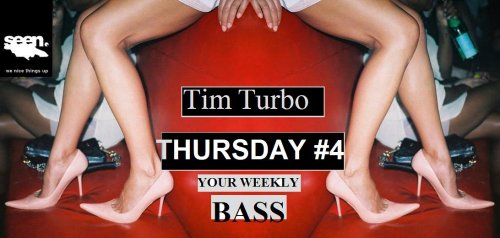 Hi kids, it's your off-the-wall-offspring Tim Turbo.
Okay, last week I said, this week would be a slower, more dancehallish jam, thats factoidal. I've really tried it, but then I got some exclusiv tunes by Schlachthofbronx and Danny Scrilla and these tunes looked very sad at me, as I started my mix slow. So I had mercy, did a break after 17 minutes and raised the bpm's. The second part became very ravy and is not for sissy's. Anyway, enjoy the mix!
News: It looks, like this facebookgroupthingy for TTT works. The group has now 37 members, wich means 8 to go for me. Furthermore you are still invited to subscibe to the TTT-podcast like all the other cool kids, send me your tunes, comment on the posts and follow me and Tobi on twitter.
Today I predict nothing for next week, besides its gonna be bassy. Affix your christmas tree baubles save and turn on the strobo tree light.
Speak along: It's Thursday – Basses for the masses!
Download Tim Turbo Thursday #4
Audio clip: Adobe Flash Player (version 9 or above) is required to play this audio clip. Download the latest version here. You also need to have JavaScript enabled in your browser.
01 Jay-Z Ft Santogold – Brooklyn (We Go Hard)
Jay-Z sparks the hype again, produced by Kanyeezy and featuring the devine Santogold. The tune is said to be off that "Notorious" movie soundtrack and I hear it everywhere these days. Thats why I crumbled it down to Tobi's favourite point, minimal style. "Boom bye bye, like Buju, I'm crucial. I'm Brooklyn boy, I may take some gettin' used to". Nuff said!
02 Prince Zimboo – Say Heh
Heh! Prince Zimboo is one of Dancehall's greatest lyricist. Proof: "Practice safe-sex, don't exceed the sex-limit, Zimboo don't drink water cause fish have sex in it. You wonder why the sea so salty, octopuss is getting naughty." (It's quote-day today).
03 Busy Signal – Money Tree
Hey, you bankers and brokers, sing along with Busy: "Me want a brinks-ful of money right now, fi start out me business a morning…" This financial crises affects us all, I can't afford to create my own words, creating words takes time, time is money, thats why today is quote day…

…NOT!
04 Lenky – Synthetic Riddim
05 Degree – Badroom Gangster
06 Elephant Man – So High
Yes, this one is from 2006, but it could be produced this year, couldn't it? Trancehall at it's best. Lenky knew it. And Ele did bigtunes back then.
07 El Tejas Taqueria Que Todas Estrellas Presentan El Soporte Arriba
Uhh, I don't know where I found this in first place, but I found it again on my hardware yesterday and it only has this cryptic description. Google-Translator said, it means: "The Texas Taquerias All Stars To Present Up Support". Anyway, somebody told me it's done by Bird Peterson and it features the best Ludacris part ever. Cheerful!
08 Santogold – Say Aha (Tepr Remix)
This one is a inapprehensible bomb. Tepr reworked this anyway ingenious Santogold tune into a Trancehall-blast. Straight forward, chopped vocals, drums that beat the boredom off the dancefloor. One of my favourite remixes this year.
09 Teddybears – Cobrastyle (Radioclit Remix)
Well. The Teddybears did this tune "Cobrastyle", which used riffs and elements of older songs that you might be familiar with including "Bomdigi" by Erick Sermon, but they also went to pick up some lines of Mad Cobra's older tune "Cobrastyle" Then this swedish girl Robyn did the tune again singing Cobra's lyrics. Radioclit remixed it, using a Balkan Hotstep brass sample, wich fits the bad Mad Cobrastyle perfectly. I want to say: I like Balkan beats.
10 Lady Saw & Cecile – Loser (Danny Scrilla Broken Rubber Refix)
Danny Scrilla (of the MashUp Crew) from Berlin gave me this remix last week to use it for TTT. I did this today and you will notice, that it's a more than serious Electro-banger. Danny will maybe release THE Dubstep piece of the year. Just to let you know.
11 Jamtech Foundation Vs Barrington Levy – Broadway
My boys from Stockholm, the aspiring Jamtech Foundation did this rework of Levy's anthem some months ago. Finest swedish Techno meets with the Greensleaves acapella catalogue and if one of the greatest Reggae-labels ever, if not the best, let some daffy guys from Sweden rework every tune they want to, these swedish boys must be good boys. Hälsningar gÃ¥ till Mastah-L and DJ Niceness!

Stockholm, my gorgeous love, I will be back!
12 Schlachthofbronx – Ghettosuperstar
I introduced the amusing Schlachthofbronx last week to you, my fellow listeners of the world. As they are the ghetto you can be, living in Minga, this tune goes out to all Minga ghettobitches, I guess. Please bounce!
13 Hostage – The Slave
Jess Jubilee and Jason Forrest (AKA DJ Donna Summer) are running the newly started Nightshifters label and these days they're dropping a synthie-bomb with the upcoming "Shake It EP" by Scottish producer Hostage. The EP features four prime time club destroyer plus remixes from Palms Out homie AC Slater and Jackmaster (of Australian duo Acid Jacks). "The Slave" is off that EP, has a bit of cloak-and-dagger b-more sound, but is more of a ravey synth stabbing and wonky bass monster.
14 Verb Ft Don Rimini – Pussy On My Mind (Don Rimini Remix)
More synthie-riot is not possible. The Don completely shreds the rapper Verb on this one, like it is his style. Verb stays on the flow and Don Rimini gives is us a nasty blasting synthetic noise throughout the whole thing that will most likely melt your speakers.
15 Jamtech Foundation Ft Ward 21 – Puff'N'Pass
Again it's time for swedish bass in your face. On this one they trenched through their archives and found one of their exclusive recordings with Ward 21. Splendiferous and almost usuable for Berlin techno party.
16 Buraka Som Sistema – Kurum (Dj Manaia Remix)
Portuguese producer DJ Manaia spanked Buraka Som Sistema's "Kurum" into a Breakbeat-Rave-stamper. You should also definitely check the Buraka album. It's a manifestation.
17 Mad Rave Riddim
18 Elephant Man – TLC
19 Fambo – Mad Rave
20 Vybz Kartel – Wine Yuh Body
I told you. Usuable jamaican 4-to-the-floor-rave-riddims is just a matter of time. Here comes the "Mad Rave Riddim", propulsive, synthicious, catchy. Ele, Fambo and Adi take care of the rest. Bass is duty.
21 Schlachthofbronx – Di Fingah
You are alone on this street. You can smell them. Then they step out of their dark ghetto corner, line up in front of you and chopp a steelpan straight in your face. Some jamaican vocals fly like bullets from the right and a drummachine-Terminator hits the street behind you. You're lost! Lost in Ghettotech!

By the way: This tune is exclusiv on TTT. Just to let you know, how fancy TTT is already. If you want to feel fancy, too, send me your tunes!
Take care! The message is love!
Sincerely yours, Tim Turbo
---

Leave a comment