posted on December 4th, 2008 by
Tim Turbo
in
Audio
,
TTT Podcast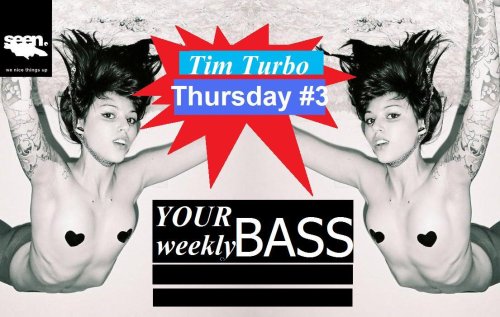 Hi kids, it's your mashup-midget Tim Turbo again.
Wow, I like how you guys like what I like to hear, like every day. Ehhm, I mean, thanks for your advertance.
Along the way, there are some TTT-News, like Tobi had the idea to do a facebookgroup for TTT, even though I'm not on facebook, but if you are, go there and join. Furthermore you are invited to subscibe to the TTT-podcast, send us your soundboykilling tunes and comment on the posts (e.g. tell us what you did while listening to TTT's), so Tobi thinks more people visit his blog.
The next TTT will be a slower, more dancehallish jam, I think. This one today is fastfastfast, synthiesynthiesynthie, fourtothefloor.
Speak along: It's Thursday – Basses for the masses!
Download Tim Turbo Thursday #3
Audio clip: Adobe Flash Player (version 9 or above) is required to play this audio clip. Download the latest version here. You also need to have JavaScript enabled in your browser.
Tracklist after the Jump-Around…
01 Detnator Ft. Ozy Majiq – Identify
Before Mad Decent proofed me wrong, I thought there is no Electro from Trinidad and Tobago. The counterevidence goes by the name of Detnator and did a tribute to all you illegal hotties out there together with Ozy Majiq, who is also a Trini.
02 LMFAO – Im In Miami Bitch (Scottie B Remix)
Premier number one of all times Baltimore DJ Scottie B remixed "I'm In Miami Bitch" by californication electro/hip hop duo LMFAO. Sorry for just giving you a peak, but I thought it would be happen more in this song. Mhh, Baltimore is far away from Berlin.
03 Zuzuka Poderasa Ft. MC Gus – Deixa o Tamborzao Tocar
04 Zuzuka Poderasa – Chama O Bombeiro
Tobi, Marflix One and me went to partake in a DJ Amazing Clay workshop here in Berlin on Saturday and it was really fun, because except for a camera guy, the manager and Daniel Haaksman of Man Recordings, who brought Clay to Europe, we've been the only ones in the room. So it became a private MPC/Sampling/history of Baile Funk workshop with one of Baile Funk's godfathers. Very instructive. Later we watched Clay rocking all the hipsters at Scala club with a one hour live MPC set. By the way, he produced both tunes by the sexy Zuzuka Poderasa.
05 Daniel Haaksman feat. SD Boys – Parolar De Veso (Scottie B Chavy Boys Remix)
The tune is off Man Rec's "Who's Afraid Of Remix?", where label boss Daniel Haaksman returns with four club ready remixes of his debut EP "Who's Afraid Of Rio". It's again Scottie B, the kingpin of hot hot Baltimore Club, who puts "Parolar De Veso" in a his trademark minimalist breakbeat booty shape. To a thundering bassdrum, a choir of ghetto thugz chant their support for the mad lyrics of Sd Boys.
06 Schlachthofbronx – Poppin
Schlachthofbronx – a unpleasant industrial area between a slaughterhouse and an abandoned playground inhabited by drug addict, home of Munich Bass, a dirty hybrid of Ghettotek, Kuduro, Baltimore, Elektro, Dubstep and Miami Bass. Bass lovers like me.

For all Bavarianghettobassys: They play tonight at "Hypie Hypie No. 4″ at a club calles Rote Sonne in Munich alongside the surreal BOY 8-Bit. You betta be there and dance your ass off!
07 DJ Tiga "The Junior Club King" – Do Bad Thingz
DJ Tiga is from New Jersey, 'Merica and I really love this vocal sample he uses. Who is this? Johnny Cash? Apart from that: serious clubshit!
08 HeavyFeet – We Gettin Crunk
Knees up, HeavyFeet are here. "We Gettin Crunk" is a energetic Bassline-bangor and on their Autumn Promo Mix (SendSpace) is lots more of this forbidden fruits. Get to know the boys here.
09 Ms Scandalous – Kini Soni
Prancehall discoverd one of the most unexpected genres hybrids ever: Bhangra Niche. Bassline meets Bhangra! Bonkers! Ms Scandalous reps West LDN and was signed to Panjabi Hit Squad. Now she jumps on the Bhangra Niche bandwaggon hunting for fame. I would give her some.
10 Sunship ft Warrior Queen – Quits (Kalbata Remix)
Kalbata is a authority in all things bass in Israel. He remixed for Roll Deep and Spank Rock and is signed to Soul Jazz label with two 12″ out featuring Warrior Queen and MC Clapper Priest. Here comes an Kalbata remix for Sunship's "Quits", featuring Warrior Queen, via Mad Decent.
11 Tomte – Heureka (Bass.Ill.Euro Remix)
Bass.Ill.Euro played also at this party at Scala, I wrote about above. They jetset around the world now with their partyconcept YUM YUM, rockin Moscow and Australia and delivering some remixes from time to time. Here we go with Bass.Ill.Euros remix of Tomtes (a german pop/rock band) "Heureka". …und du schreist Heureka..!
12 Skream vs Elephant Man – Wobble That War (Elected Mashup)
The Dutch boy Elected, "De Koning van de Hiphop met een Twist", has made this mashup, or, as he calls it, mashed potato. The two victims this time are Skream and Elephant Man. Get more wobble at Sirkus Recordings. via Dutch Reggae.
13 Roll Deep – Club 7
The new and third Roll Deep Crew album, called "Return of the Big Money Sound" is out to make the big money return to the boys. Wiley produced this tune, besides some others and he did well. Check the video.
14 A1 Bassline – Girl Thing (Pirate Soundsystem remix)
A1 Bassline's butt shaker of tun "Girl Thing" will finally see its official release on Meal Deal Records and in true mc-value style, it'll come complete with Christian Martin and Scott Cooper remixes and a Super-Sized fries. To help promote A1′s forthcoming press, the folks over at Meal Deal recently ran an ever so fashionable remix competition for the 3rd remix to complete the EP pack. The winner is in: It's Pirate Sound System! Basslinebasslinebassline. Bass is duty!
15 Rally Bop – Knock It Off (Intercept Riddim)
16 Bramma – Neva See (Intercept Riddim)
17 Aidonia – Head Shot (Intercept Riddim)
Calibur Entertainment's Intercept Riddim is one fine Trancehall production. Spherical, synthical, bouncical and big tunes by future stars of the biz: Rally Bop, Bramma and of course Aidididididonia.
18 Busy Signal – I Fucked Your Girl
Busy Signal brings back my last months catchy tune in known and hoped-for-while-reading-it-first-at-the-Fader Jamaican manner. Royal refix.
Take care! The message is love!
Sincerely yours, Tim Turbo
---

8 comments