posted on November 27th, 2008 by
Tim Turbo
in
Audio
,
TTT Podcast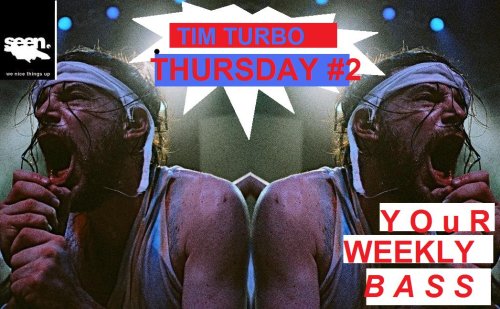 Hi kids, it's your favourite bass-bambino Tim Turbo again.
After the first Tim Turbo Thursday was surprisingly some kind of succes here at seen. I want to give you the second installment today. This time it's more electronic, way faster and longer, but Bass in your face as always. If you loved TTT#1 like the 400 others, that listend to it maybe subscribe to the podcast and get every new issue served hot and reeky on the forthcoming Thursdays. Also: Send us your tunes. If I like them I play them.
Speak along: It's Thursday – Basses for the masses!
Download Tim Turbo Thursday #2
Audio clip: Adobe Flash Player (version 9 or above) is required to play this audio clip. Download the latest version here. You also need to have JavaScript enabled in your browser.
Tracklist after the Jumping Jack…
Tracklist:
01 Einstein – Try Fi Stop Me
seen.Team member Stein brings us a gangsterish atmo anthem with wobbling sounds and points up that he is still a very talented artist. In my eyes he will sadly be the forever-upcoming. Anyway, check "I'm A Soldier" at Cyan Wait, too.
02 Jay-Z – Jockin' Jay-Z (Don Rimini Remix)

French producer and electro-tank-commander Don Rimini is one of my favourite remix-guys from the electro holodeck these days. Some months ago he came up with this unofficial remix of the Jay-Z x Kanye track "Jockin' Jay-Z". The track gets that special Don Rimini treatment which leaves it standing with one foot in electro and the other in ghetto, it features chopped up vocals galore, breaks and a sinister electro beat to get you moving.
03 M.I.A. – Shells
This is the new tune off her new EP called "How Many Votes Fix Mix" (it's on iTunes). It samples (or maybe just sounds like) the weird-ass Angolan Tarrachinha track called "E Lola"which "The Fader's Eddie Stats featured on a Afrohall/KuBass mix for Ghetto Palms. The guys of the Fader bet their six black cowries she heard that shit the same place he did, a dedicated Angola-madness site called Kuduro Files – although if you like it you can now go directly to a spin off site that only features Angolaton-tempo stuff like this. Anyway, she owns the beat, making the aggro track poppy with a Belle Stars sing-song.
04 Pase Rock – Get Money Kids
Pase Rock, the dude who brought us "Lindsay Lohan's Revenge", is back with his new single "Get Money Kids" (off the "Get Money Kids / So Fucking Disco" single out Dec. 2) . A relentless party-rocking flow plus a mile-a-minute gush of club-ready rhymes that'll blow the roof off of any room it invades. The big bang is produced by Eli Escobar and fleshed out with all matter of samples you can imagin: horns, pianos, chopped vocals, etc..
05 Cecile – Burning Up (Perfect Ten Riddim)
One Chorus of Cecile is enuff for me. Great riddim and a o.k. tune, but way too cheesy.
06 Tony Matterhorn – When It Rains (Perfect Ten Riddim)
Tony Matterhorn knows how to ride a Tranehall-swagger like the "Perfect Ten Riddim": Slackness, Autotune, nice.
07 Heaps Decent – Koori Girls feat. King Sisters (Dre Skull Remix)
Heaps Decent is Diplos non-profit program, which aims to reach out musically to underprivileged youth. Sounds good to me. The tune sounds even better. Dre Skull is responsible for this remix and guilty for fucking up every club with it. Nuff said.
08 Emynd Ft Young Chris – We Don't Give
Somebody cranked out some serious heat, that features Philadalphia rapper Young Chris, it's a perfect B-more banger with blazing horns, handclaps and party inducing vocals that were made for shouting at the top of your lungs while you're wiling out on the dancefloor.
09 Mr Vegas – Round Of Applause (Matchstick Bmore Remix)
Will it blend? Matchstick said: "Yes!" and throwed Bmore and Dancehall in his mixer. Yummy! Btw: Cyan Wait's Emil Tischbein wrote in September: "
The "Round Of Applause Riddim" is like tribal drums and claps only and begging for you to get your protools on and put a proper bassline and a melody on it. Production credits going to Kirky Dove. (…) Do it! For real, do it!" I-knew-firs credits going to Emil.
10 Gavin Burrows – Song For Brian
Taken from Gavin's "The Eagle Has Landed" EP, "Song For Brian" serves up the goods with some cheeky samples, punchy drums, and acid wobble bass.

Check also the mix by Gavin Burrows the guys at Curbcrawlers posted a few weeks ago.
11 Marc Houle – Bay Of Figs (Ward 21 Remix by Diplo)
Why not take a Dance-Classic and a Dancehall acapella classic and put them together, saying "Fuck you, you jerk-offs" to us all, for having both on the hardware for years. Diplo is the best. Trust me!
12 Tom EQ – The Begining
Tom EQ's name is on the rise and we're currently only witness to the tip of the iceberg as there's a trailer load of EQ goodness to hit the streets soon. With a flair for jackin' beats, chunky drums and driving bubble bass, it makes prefect sense that we'll be seeing a 4 track EP out on Lee Mortimer's Wearhouse imprint later this year.
13 Edu K – Me bota pra Dancar (Ricky + Rulo Remix)
Edu K's "Me Bota Pra Dancar" got remixed by Argentinia´s Ricky + Rulo and it's a bally-blasted-bloody headbangor. Pitched down psychoses and bursting chainsaw-synthies. Haaksman wrote: "If you fancy moustaches, noisy basslines and headbanging this one´s for you." And if you can't get enough of the gorgeous ruff-ravy-rugged sounds of Baile Funk, like me, get Original Baile Funk Master Sany Pitbull's "Future Baile Funk Express" at Daniels place and dance your ass off.
14 Edu K Ft MC Dando – Nheco Nheco
Sawtooth Synths, portuguese chopped samples, bouncing beat. Mission completed.
15 N.A.S.A. ft. Method Man, E40 & DJ Swamp – N.A.S.A. Music (LA Riots Remix)
Update from LA Riotland: their clockwork-like streak of remixes continues with this take on N.A.S.A.'s "N.A.S.A. Music" featuring E-40, Method Man, and DJ Swamp and they tour the US with MSTRKRFT.
North America South America (N.A.S.A.) consists of Brazilian DJ Zegon and American Squeak E. Clean. Since 2003, this duo has been the architect of genre-splitting collaborations with mostly hip-hop artists, but not exclusively including Karen O of the Yeah Yeahs or David Byrne of the Talking Heads. Method Man, E-40 and DJ Swamp have all been featured on N.A.S.A.'s new track, "N.A.S.A. Music" which has been graciously remixed by the touch-and-go guys of LA Riot
16 Wiley – Summertime (Bart B More Remix)
Wiley is officially taking over the weather. Bart B More rolls in the remix-cru along Crookers and David E Sugar.
17 Ricky Blaze – Block Dem Out
Rolling Stones! Synthicious textures plus party lyrics. Still the prince of Trancehall-Pop with jamaican roots.
Take care! The message is love!
Sincerely yours, Tim Turbo
---

1 comment