posted on March 12th, 2009 by
Tim Turbo
in
Audio
,
Design
,
TTT Podcast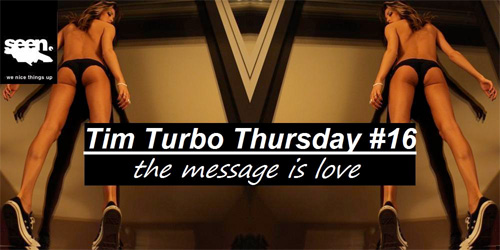 Hi kids, it's the love-thru-bass-messenger, Tim Turbo on my second week in Munich.
I checked out some exclusiv members- and guestlist-only clubs in my new home Munich in the last couple of days: Stupefying beautiful people at Dollinger. The best Ghetto Bass party I had for years at Colt and endless free wodka drinks with model-chicks at Hypeness. You see, I enjoy my time here. Nevertheless, I found some free minutes to put together a premium Tim Turbo Thursday, brimful with brand new, sometimes even exclusiv basses for you. Enjoy the mix and recommend it to your gang and family, if you like it.
Furthermore: show your affiliation to the dirty-down-bass side of life (a.k.a. la vida loco) and check out these splendid pages, e.g. become a fan and join my group on Facebook or my fan page. Get the new Tim Turbo Thursday as soon as possible, by subscribing here.
Get me and my bag of bass to your hood by writing my booker at: book.tim.turbo[at]seen-site.com.
Speak along: It´s Thursday - Basses for the masses!
Tim Turbo Thursday #16
Audio clip: Adobe Flash Player (version 9 or above) is required to play this audio clip. Download the latest version here. You also need to have JavaScript enabled in your browser.
Download Tim Turbo Thursday #16
Follow the track to the "more"-button to track the tracklist. Word!
01 Little Boots – Day'n'Night Piano Cover
02 El Remolon Ft MC Marina – Vem Que Paria
03 Ward 21 – All Around The World
04 Diesler – When She Was Bad
05 Trackademicks – Enjoy What You Do
06 Danny Scrilla – Sore Fingertip
07 Jasmin Shakeri – Spank That Ass (Bass Ill Euro Remix)
08 Britney Spears – Circus (Diplo Circus Remix)
09 Laidback Luke & Roman Salzger a.k.a. Generation Noise Ft Boogshe – Afrojack Remix
10 DJ Cabide – Tira Onda Montagem Tipo Colombia
11 Douster Ft Fauna – Zombie
12 Toddla T – Shake It
13 South Rakkas Crew – Mad Again (Fake Blood Mix)
14 Lady Sovereign – I Got You Dancing (Jack Beats Remix)
15 Jack Beats – What (Foamo Re-Edit)
16 Bass Ill Euro – I Got Money Bitch
17 DJ Amazing Clay – Chopin In Da Party
18 DJ Amazing Clay – Super Jones 2007
Take care! The message is love!
Sincerely yours,
Tim Turbo
---

Leave a comment