posted on February 26th, 2009 by
Tim Turbo
in
Audio
,
TTT Podcast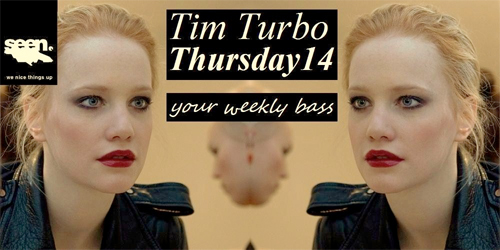 Hi kids, this is your white knight in the name of his imperial majesty, the almighty bass, Tim Turbo.
We get pretty much back to the usual scheduled programm. Wich means bass in great profusion, in fact loaded fiftysomething minutes. Todays Tim Turbo Thursday's highlights may be two brand new unreleased tunes off the Man Recordings rooster and a brand new remix by Danny "Wobble" Scrilla.
Now some news on my behalf again: I'm leaving my beloved   Berlin for 6 months next week, going down down down to the dirrrty south, meaning Munich, to work there. If Munich is your hood and you wanna hang out and do some music stuff or you have a club where I can play some shows every now and then, get at me on timturbo(at)seen-site.com
If you are checking out this new and fancy internet-thingy right now, maybe check out these fine and splendid pages, too and leave a few words: my facebookgroup and my facebookfanpage. If you need to get every TTT as soon as possible, you should subscribe here. And if you want hourly updates about our ultrainteresting lives follow me and Tobi on twitter.
Book me on book.tim.turbo[at]seen-site.com.
Speak along: It´s Thursday – Basses for the masses!
Tim Turbo Thursday #14
Audio clip: Adobe Flash Player (version 9 or above) is required to play this audio clip. Download the latest version here. You also need to have JavaScript enabled in your browser.
Download Tim Turbo Thursday #14
More words, some names and no poems after the jump-around-button.
01 KU BO – Tindao (Man Recordings Exclusiv)
02 Looptroop Rockers – The Building (Krazy Fiesta RMX)
03 Busy Signal – From Afar
04 DJ Cleo – Wena ng'hamba nawe
05 DJ Cleo – Mind ckuf
06 Machines Don't Care – On A Roll
07 Diplo Ft Rye Rye – Wassup Wassup  (Crookers Happy Remix)
08 Wookie – Gallium
09 Jamtech Foundation vs. Yellowman – Zungguzungguguzungguzeng (Hype Up Mix)
10 Machines Don't Care – Badman
11 Crookers – Big Money Comin (Mat Cant Philly 2 Bmore Edit)
12 Feadz Ft MC Wesley – Subio, Desceu (Man Recordings Exclusiv)
13 Madera Limpia – La Lenta (Schlachthofbronx Remix)
14 Santigold – Creator (Konrad Old Money Remix)
15 Three Six Mafia - But I'd Rather (Douster Remix)
16 Majestic – Bumba
17 Kid Cudi – Day And Night (Danny Scrilla Dubstep Remix)
Take care! The message is love!
Sincerely yours, Tim Turbo
---

8 comments