posted on January 29th, 2009 by
Tim Turbo
in
Audio
,
TTT Podcast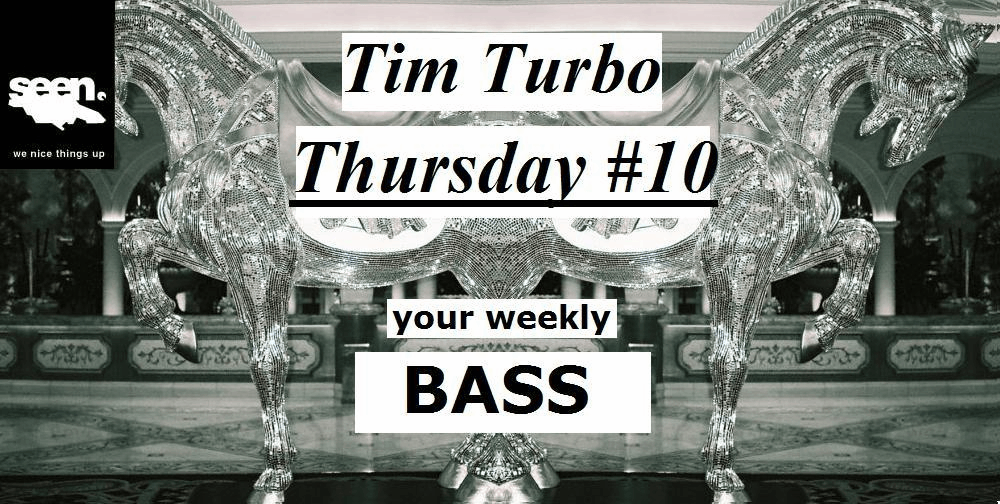 Hi kids, it's your art-school-girls-seducer and ghetto-bass-advocate Tim Turbo with the anniversary issue of Tim Turbo Thursday.
I want to take the 10th anniversary as an occasion to ask you, what I could do better? Criticism, praises or hints? How did you liked the last (truly experimental) TTT? Do you have particular ideas for future issues? Whatever you have to say, say in the commentssection below.
Todays TTT is original style again: a large, hot jar of bubbly basses and global ghetto dances. There is a tracklist below, but no tune-by-tune-stuff, as I'm too busy these days, finding a new job and doing a heap of more or less juicy projects. Maybe go to the g-funk-area for tune-details.
And as always: facebookgroupthingy, facebookfanpage, subscribe, send me tunes, comment the posts, follow me and Tobi on twitter or book me for your children's bassday party on book.tim.turbo[at]seen-site.com.
Speak along: It's Thursday – Basses for the masses!
Tim Turbo Thursday #10
Audio clip: Adobe Flash Player (version 9 or above) is required to play this audio clip. Download the latest version here. You also need to have JavaScript enabled in your browser.
Download Tim Turbo Thursday #10
Tracklist after the "Gimme gimme more, gimme more, gimme gimme more!"
01 The Qemists Ft Wiley – Dem Na Like Me (King Cannibal Remix)
02 Wretch 32 Ft Wizzy Wow, Tinie Tempah, Scorcher, Bashy, Sway & Chipmunk – Be Cool Remix
03 Spank Rock & Benny Blanco are Bangers and Cash Ft Amanda Blank – Loose (DJ Ayres Potion remix)
04 Todosantos – Acid Boys & Acid Girls (Copyfokking Rekkix)
05 Vybz Kartel – A wah Do dem
06 Kid Bass ft Sincere – Good Girls Love Rudeboys
07 Donaeo – African Warrior
09 Nacho Lovers – Acidlife (Eli Escobar Remix)
10 B-Tight – Sie Will Mich (Aggro Im Club Remix)
11 Fake Blood – Blood Splashing (Fake Blood Theme)
12 Toddla T – Manabadman (Andy George Re-Fix)
13 Artist X – Tune Y (Don Rimini Remix)
I don't know who did that tune. The file is only saying "donrimini". Screw mp3′s.
14 Secret Agent Gel – 6AM Shuffle
15 Santogold – Lights Out (Tepr Emo Remix)
Take care! The message is love!
Sincerely yours, Tim Turbo
---

4 comments