posted on November 6th, 2008 by
Tobias
in
Design
,
Fashion
,
SEEN
,
Stuff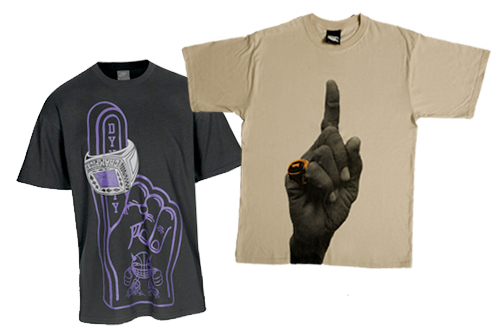 Call me paranoid, but browsing my favourite German online shop for cool apparel, Frontline, I came across Nike´s new ring finger tee which I couldn´t help reminding me of one of our very own shirts :-). Compare yourself in the picture above. And if you´re quick, you can get hold of the very final medium sized "One" shirt in our store.
In other world brand news, Ecko Unlimited seems to be running perimeter advertising in English football arenas. At least I saw some watching Manchester City´s UEFA cup match tonight. Not too innovative but still impressive.
Also trying to Hustle and Grow is our friend Khalil who used to be known as Ill Inspecta, Germany´s finest dancehall deejay, and who´s one of the guys you can currently see on our store front page. He officially ended his professional music career at the end of October and moves on to heigher heights in the web business now. All the best for that, man!  All who want to follow his path – keep checking back to his blog:
I will talk about my hustle in the music business and in the tech industry. My goal is to enrich myself through the pursuit of my goals and encourage others to do the same.
Probably nice to read, too: "Streetwear History" (via Artschoolvets) and "A Powerful Guide to Your Own Clothing Line" (via A Better Tomorrow).
---

Leave a comment