posted on October 15th, 2009 by
Tim Turbo
in
Audio
,
SEEN
,
Tim Turbo
,
TTT Podcast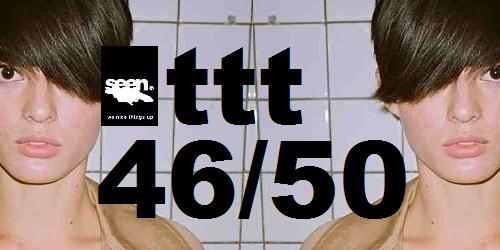 Tim Turbo Thursday is a weekly DJ mix podcast hosted and curated by Tim Turbo. He selects and performs and invites handpicked guests on a regular basis. TTT is limited to 50 issues.
Pow!
Todays TTT may be the most cheesy one ever. It may be the mix with the most remixes of Pop songs and it may be chum up with the girls in the most corny way ever, but I love it. After all that badman mixes and heavy banging electro journeys it's something that I wanted to do. The middle part of the mix is still bad by the way.
I'm also reppin' some of my favourite upcoming producers of these days: Douster with two great skanking new tunes, So Shifty with two tunes (e.g. their great Ska remix of "Keep It Going Louder") and me, Tim Turbo with two new remixes. The Wax Motif tune will be released on Big'N'Hairy in November and the Daniel Haaksman remix will be up for free on seen. on Saturday.
Thugs, get a girl, this mix is for my gyalists! Ghettochicks, lipgloss and pronails are expected, this mix is for my rudegirls with heart!
Tim Turbo Thursday #46
Audio clip: Adobe Flash Player (version 9 or above) is required to play this audio clip. Download the latest version here. You also need to have JavaScript enabled in your browser.
Download Tim Turbo Thursday #46
01 Kid Sister – Right Hand Hi (Kingdom Remix)
02 Cahill – Sex Shooter (Crazy Cousins Mix)
03 Magic System Ft Mokobé- Un gaou à Oran
04 Yves Larock – Rise Up (Vandalism Remix)
05 The Count & Sinden – Mega (Schizofonics Remix)
06 NROTB – Droplet
07 So Shifty – Nowhere To Run To
08 Drop The Lime – Devil's Eyes (Luca's B-Live Club Mix)
09 Wax Motif – Jackers (Tim Turbo's Dagga Remix)
10 Riton & Primary 1 Ft Wiley – Who's There?
11 Crystal Fighters – Xtatic Truth (Douster Remix)
12 Douster – Coelophysis
13 Daniel Haaksman – Kid Konga (Tim Turbo Happyton Remix)
14 Major Lazer Ft Nina Sky & Ricky Blaze – Keep It Goin' Louder (So Shifty 1961 SKA Remix)
Notes: Check out all the previous issues. Join the TTT group over here at Facebook. Subscribe to the podcast feed via RSS, subscribe via iTunes as an alternative and hit the subscribtion form for our newsletter. Book me by writing some real talk to: book.tim.turbo[at]seen-site[dot]com or check out my page in the Pink-Pong artist collective.
---

Leave a comment