posted on October 8th, 2009 by
Tim Turbo
in
Audio
,
SEEN
,
Tim Turbo
,
TTT Podcast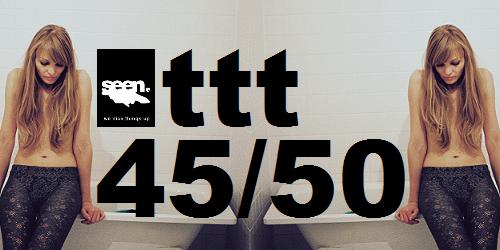 Tim Turbo Thursday is a weekly DJ mix podcast hosted and curated by Tim Turbo. He selects and performs and invites handpicked guests on a regular basis. TTT is limited to 50 issues.
Oi,
What a frankensteined monster of Dubstep, Bassline and Electro, that Anna buzzed last week! Probably the most heavy mix on Tim Turbo Thursday ever. That's why my mix today starts nice and easy with some Dancehall and Trancehall in return, then goes deep with dreamy Dubstep and things and just when you think what a chilly TTT it was this week, Danny Scrilla steps in the place with flamboyance and esprit and blows you away with his brand new exclusiv remix of Crookers' terminator tune "Il Cattivo"! Straight stupidness…
You lucky gangster buddys also will be able to freeload that dancefloor destroying tank by Danny tomorrow right here on seen. and learn something about Danny's upcoming second trip to the U.S. by the way.
Tim Turbo Thursday #45
Audio clip: Adobe Flash Player (version 9 or above) is required to play this audio clip. Download the latest version here. You also need to have JavaScript enabled in your browser.
Download Tim Turbo Thursday #45
01 Poirier Ft Burro Banton – Trust None Of Them
02 Assassin – Hand Inna Di Air
03 Flore Ft Rodney P – We Rewind
04 Vybz Kartel – Gaza Commmandments
05 Jay-Z – D.O.A (Chase & Status Remix)
06 Soulico Ft MC Zulu – Queen of Hearts
07 Dizzee Rascal – Money, Money
08 Maluca – El Tigeraso (Cocotaxi Remix)
09 The XX – Space Bass (Jamie XX's Remix Of The XX)
10 Cardopusher – Steppin Worldwide
11 Skism – The Blank (16 Bit Remix)
12 Modeselektor Ft Paul St. Hilaire – Let Your Love Grow
13 Unknown – Unknown
14 Bar9 – Murda Sound
15 Rampage – War (Blatta & Inesha Go To Luanda Remix)
16 Crookers – Ill Cattivo (Danny Scrilla Remix)
Notes: Check out all the previous issues. Join the TTT group over here at Facebook. Subscribe to the podcast feed via RSS, subscribe via iTunes as an alternative and hit the subscribtion form for our newsletter. Book me by writing some real talk to: book.tim.turbo[at]seen-site[dot]com or check out my page in the Pink-Pong artist collective.
---

Leave a comment