posted on September 24th, 2009 by
Tim Turbo
in
Audio
,
SEEN
,
Tim Turbo
,
TTT Podcast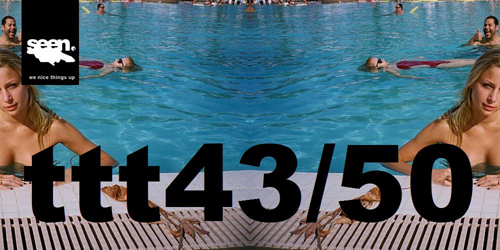 Tim Turbo Thursday is a weekly DJ mix podcast hosted and curated by Tim Turbo. He selects and performs and invites handpicked guests on a regular basis. TTT is limited to 50 issues.
Whus gwaanin'? Papa is back on the mix!
TTT #43 got brand new tunes by Fake Blood, the UK Funky gangsters and Schlachthofbronx to offer in the first half. The second half is all Kuduro: raw, uncut and ruff bangorz. Next week it´s BrokenTeethCrew's lovely Anna Love to Dubstep in the arena and I'm pretty sure she'll kill it for you.
Also killing it for you: Me, Danny Scrilla, Schlachthofbronx, Mumdance and Joyce Muniz on the 1 year Hypie! Hypie! anniversary rave in Munich, GER, on Saturday! Better step your airhorn game up for this one and win a spot spot on the g-list here.
Thaaaaat´s it! Gang sign!
Tim Turbo Thursday #43
Audio clip: Adobe Flash Player (version 9 or above) is required to play this audio clip. Download the latest version here. You also need to have JavaScript enabled in your browser.
Download Tim Turbo Thursday #43
01 Fake Blood – Fix Your Accent
02 Chuckie & LMFAO – Let The Bass Kick In Miami Bitch
03 Fake Blood – I Think I Like It
04 Project Bassline – Drop The Pressure (The Count's "Conquistador" Remix)
05 Silverlink Ft Badness & Jammer – The Message Is Love (Rude Kid Remix)
06 Schlachthofbronx – Buss It
07 Twizzle & Greenmoney – Skydiving
08 Juiceboxxx – 100 MPH (AC Slater Remix)
09 Inmaculado & D Hart – Money Skank
10 DJ Du Marcel – Tribal Sound
11 DJ Vielo – Freestyle
12 Zoca Zoca – Tcheke Tcheke
13 Elizio Ft Shaba Tigre – Mechi Bunda
14 Les Princes Du Kuduro – Mwangolé (O hino)
15 Izé Feat. DJ Miki – Kuduru DMC Caps
16 Lucky Gomes – Patiri
17 Tony Pirata – Pirata
Notes: Check out all the previous issues. Join the TTT group over here at Facebook. Subscribe to the podcast feed via RSS, subscribe via iTunes as an alternative and hit the subscribtion form for our newsletter. Book me by writing some real talk to: book.tim.turbo[at]seen-site[dot]com or check out my page in the Pink-Pong artist collective.
---

6 comments