posted on September 10th, 2009 by
Tim Turbo
in
Audio
,
SEEN
,
Tim Turbo
,
TTT Podcast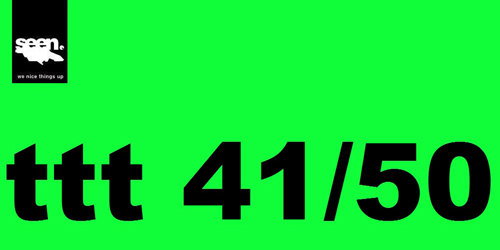 Tim Turbo Thursday is a weekly DJ mix podcast hosted and curated by Tim Turbo. He selects and performs and invites handpicked guests on a regular basis. TTT is limited to 50 issues.
Heyohooo!
We got only nine Tim Turbo Thursdays to go and I nearly completed the schedule for the upcoming weeks today. With some of the most fascinating DJs and producers for me right now, contributing mixes. Next week its finally on MeNeO from Spain to bring us dirty lo-fi synths crashing on some Reggaeton concrete walls. Grrrrreat.
For today's mix I creeped deep in the hot, foggy jungle, sat down on a single mossy stone on some glade and recorded the mix. Its almost too minimal for my usual sound, but its great tribal and tropical. I got some brand new remixes of Daniel Haaksman's new EP,  the hi-flyer of the emerging Bongobong-Minimal-Tropideep-House scene: Renaissanceman, Solo and L-Vis 1990 and some twisted Funky covered in undiscovered flora and fauna plus some usual suspects.
Lay down on a concrete meadow and watch the urban flora and fauna while listening to this one. off.
Tim Turbo Thursday #41
Audio clip: Adobe Flash Player (version 9 or above) is required to play this audio clip. Download the latest version here. You also need to have JavaScript enabled in your browser.
Download Tim Turbo Thursday #41
01 Douster – King Of Africa
02 Solo – Congoloid (Minimow Remix)
03 Julio Bashmore – Um Bongo's Revenge
04 Yolanda Be Cool – Afro Nuts
05 Daniel Haaksman – Pobum Coco (Sharkslayer Remix)
06 Harvard Bass – 81 (Renaissanceman Remix)
07 Spedro – Tikkiland (Ben Anders Remix)
08 Cadenza – Funky Nassau Remix
09 Geeneus – Yellowtail VIP Mix
10 Daniel Haaksman – Deixa Tocar (Consistent Remix)
11 Broki – Comparsa (Hector Calderon 7″ Mix)
12 DJ Gregory & Gregor Salto – Con Alegria (Solo 'More Cowbell' Remix)
13 DJ Gregory & Gregor Salto – Con Alegria
14 Diplo & Laidback Luke – Hey (L-Vis 1990 Remix)
15 Major Notes – Jungle Book
16 Major Lazer – Zumbi (Nujax Remix)
17 Bassjackers & Apster – Klambu
18 Florence and the Machine – Drumming (Boy 8-Bit Remix)
19 Legobeat – Jasta
20 Flow 212 – Ritmo Do Meu Flow (Mastiksoul Remix)
21 Jeremih – Birthday Sex (Agent X Remix)
Notes: Check out all the previous issues. Join the TTT group over here at Facebook. Subscribe to the podcast feed via RSS, subscribe via iTunes as an alternative and hit the subscribtion form for our newsletter. Book me by writing some real talk to: book.tim.turbo[at]seen-site[dot]com or check out my page in the Pink-Pong artist collective.
---

6 comments