posted on September 3rd, 2009 by
Tim Turbo
in
Audio
,
SEEN
,
Tim Turbo
,
TTT Podcast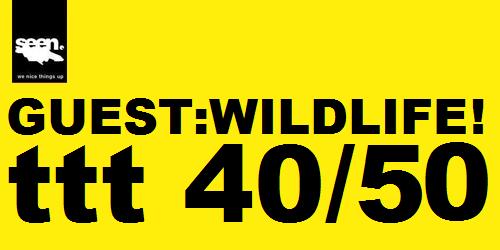 Tim Turbo Thursday is a weekly DJ mix podcast hosted and curated by Tim Turbo. He selects and performs and invites handpicked guests on a regular basis. TTT is limited to 50 issues.
Today we celebrate a double birthday. Tim Turbo Thursday is now 40 issues old today and I went one year older yesterday, too. Of course we needed a special thingy for this special occasion. Thats why Switzerland's enfant terrible, DJ and producer WILDLIFE! invited the whole freaking jungle to join him blastin out big tunes on this Tim Turbo Thursday #40. NY Times, Fader, The Guardian, The Independent, VICE, XLR8R, URB, Rolling Stone, and others praised this boy for his unanimously productions for Terry Lynn's stunning debut-album "Kingstonlogic 2.0″ and by the way he throws the best party in Bern at Bonsoir.
So what can you expect from this mix? He would say: "sort of like… putting a Jamaican cat in a blender feet first and turning up the bass to balance out the noise." I say, you better put your Adidas-loincloth on and make sure your liana is shine and criss. Tim Turbo Thursday is the greatest, our Leopard skin the latest! (via Zimboo)
Tim Turbo Thursday #40
Audio clip: Adobe Flash Player (version 9 or above) is required to play this audio clip. Download the latest version here. You also need to have JavaScript enabled in your browser.
Download Tim Turbo Thursday #40
01 Hector Berlioz – Dies Irae (WILDLIFE! 'Shining' Edit)
02 Trevor Loveys – Organ Grinder (Greenmoney 'Lighter' Remix)
03 Erup – Click Mi Finger (Grahmzilla Remix)
04 Benga – 26 Basslines (L-Vis 1990 Dubble Step Edit)
05 Major Lazer ft. Mr. Lex & Santigold – Hold The Line (Edu K Remix)
06 Sidney Samson & Skitzofrenix -  Work It
07 Alison Hinds – Roll It Gal (A Lil' Bit Funky VIP Remix)
08 Detropix vs. Mavado – So Blessed RMX
09 Myd – Train To Bamako
10 Yolanda Be Cool – Afro Nuts (Douster Remix)
11 Noob & Brodinski – Peanuts Club
12 Silvio Ecomo & Chuckie – Moombah (Afrojack Remix)
13 Laidback Luke & Diplo – Hey
14 Santos – Echo Box
15 Major Lazer ft. Vybz Kartel – Pon Di Floor
Notes: Check out all the previous issues. Join the TTT group over here at Facebook. Subscribe to the podcast feed via RSS, subscribe via iTunes as an alternative and hit the subscribtion form for our newsletter. Book me by writing some real talk to: book.tim.turbo[at]seen-site[dot]com or check out my page in the Pink-Pong artist collective.
---

1 comment