posted on August 20th, 2009 by
Tim Turbo
in
Audio
,
SEEN
,
Tim Turbo
,
TTT Podcast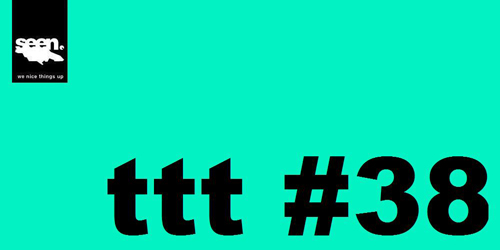 Tim Turbo Thursday is a weekly DJ mix podcast hosted and curated by Tim Turbo. He selects and performs and invites handpicked guests on a regular basis.
Hi!
I just got back from touring California and Texas with Danny Scrilla for two weeks and I will continue str8ly with bringing back the heat on Tim Turbo Thursday. If you want to know what we did over there in the States, check out the daily videos I put together here.
I wanna thank everybody over there again for having us. Thank you TropiCali Productions, Brokenteeth crew, Mad Decent crew, Vessel SF, EOS Lounge, W Hotel, Club 740 L.A., Zubar and Barcelona Club. We had a blast!
On today´s menu you'll find brand new zombie unicorn vibes, Schlachthofbronx reworking Daniel Haaksman Bavarian rave style, barely producer of the year, Douster, twirling on some French song, Hamburg's So Shifty holdin it down with Ward 21, Busy Signal back on his slackness, Detboi's new lazerness and several other bonkerifique bangorz.
I'm back in the hood, kids!
Tim Turbo Thursday #38
Audio clip: Adobe Flash Player (version 9 or above) is required to play this audio clip. Download the latest version here. You also need to have JavaScript enabled in your browser.
Download Tim Turbo Thursday #38
01 Flore Ft Shunda K – The Test
02 Daniel Haaksman Ft Tati Quebra Barraco – Jesus (Schlachthofbronx Remix)
03 Detboi – Wine Ya Body
04 HeavyFeet Ft Bubbz – I Am Here (VIP Mix)
05 Busy Signal Ft Chi Ching – I Just Wanna Fuck (DJayCee B-More Blend)
06 Rico Tubbs – Lumberjack
07 La Bande à Basile – La chenille (Douster Gwada remix)
08 So Shifty Ft Ward 21 – Whine Har Rump
09 Kevin Lyttle – Turn Me On (Motorpitch & Beware Remix)
10 Detboi – Y'all Want Mor (Sinden Remix)
11 Riton and Primary 1 – Whos There (L-Vis 1990 Remix)
12 Major Lazer Ft Ricky Blaze & Nina Sky – Keep it Going Louder (Alvaro RMX v2)
13 Busy Signal – Pum Pum Pum
Notes: Check out all the previous issues. Join the TTT group over here at Facebook. Subscribe to the podcast feed via RSS, subscribe via iTunes as an alternative and hit the subscribtion form for our newsletter. Book me by writing some real talk to: book.tim.turbo[at]seen-site[dot]com or check out my page in the Pink-Pong artist collective.
---

3 comments