posted on August 13th, 2009 by
Tim Turbo
in
Audio
,
TTT Podcast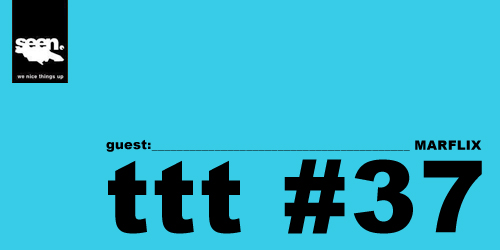 Tim Turbo Thursday is a weekly DJ mix podcast hosted and curated by Tim Turbo. He selects and performs and invites handpicked guests on a regular basis.
While agent Turbo is on a secret mission with agent Scrilla, Marflix (Faluma / MashUp Crew) takes the opportunity to leave Ahgwaanistan and bless the TTT hipster crowd with pure madness. Fresh tunes from the heat of the Caribbean: nuff Soca, Bass and Carnival vibes here, spiced with Dubstep,
Merengue, House, yellow peppa sauce and a bottle of Fernandez Black Label Rum.
Tracklist:
Fayann Lyons – Heavy T Bumper
Princess Nyah – Big Boys
Steve Nash – Malaika
Shontelle – Battle Cry (Ill Blu Remix)
Toddla T feat. Herve & Serocee – Shake It
Skanking Squad – Waving the Flag
Scottie B & King Tutt – African Chant (Top Billin Remix)
Maniac – Gunslap
Nastee Boi Feat. Lickle Dee Ze – Wobbla
Nigel Nicholas, Jose Torse & Kakle – Soca Aliens
TC Brown – Tet Alley (Roadmix)
Skinny Fabulous – Leggo De Beast (Scratchmaster Roadmix)
Nigel Nicholas – Move
Kakle – Rage On The Road
Jose Torso – Energy
Mantius – Kote manman-ou (Roadmix)
Machel Montano – Doh Hold Me Back
Krosfyah – Kaution
Problem Child – Madhouse
J. Alvarez feat. Jowell & Randy – Qué Lo Qué (Remix)
Maluca – El Tigeraso (Sticky K Remix)
Audio clip: Adobe Flash Player (version 9 or above) is required to play this audio clip. Download the latest version here. You also need to have JavaScript enabled in your browser.
Download Tim Turbo Thursday #37 – Guest: Marflix
Notes: Check out all the previous issues. Join the TTT group over here at Facebook. Subscribe to the podcast feed via RSS, subscribe via iTunes as an alternative and hit the subscribtion form for our newsletter. Book me by writing some real talk to: book.tim.turbo[at]seen-site[dot]com or check out my page in the Pink-Pong artist collective.
---

Leave a comment