posted on July 15th, 2009 by
Tim Turbo
in
Audio
,
SEEN
,
Tim Turbo
,
TTT Podcast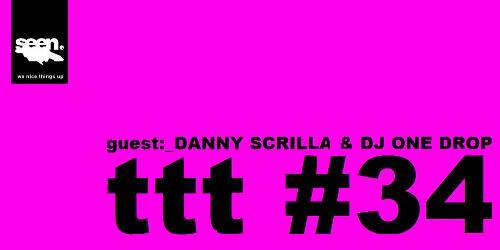 Tim Turbo Thursday is a weekly DJ mix podcast hosted and curated by Tim Turbo. He selects and performs and invites handpicked guests on regular basis.
Wha's gwaanin', fam? It's Tim Turbo Thursday!
It's all bout UK Funky, Dubstep and Lazers on today's guestmix by Danny Scrilla and DJ OneDrop. The former should be well known to you, as he is something like a regular over here on TTT already and an upcoming German Funky producer plus my partner in crime for most of my last DJ shows (and a US tour in August). The second guy should be well known from the ingenious mixtape series "UK Funky Vol.1-3″ and he also used to run the Rise And Shine Soundsystem with Danny and some other great guys for years.
You see, they know how to go bonkers, go with them.
Tim Turbo Thursday #34
Audio clip: Adobe Flash Player (version 9 or above) is required to play this audio clip. Download the latest version here. You also need to have JavaScript enabled in your browser.
Download Tim Turbo Thursday #34
01 KG – Feeling Funky
02 SMI Ft Crey-Mey – Don't You Play (DJ OneDrop Dubplate)
03 321 Ft Rubi Dan & Keflon – Bring It Back (Ill Blu Remix)
04 Apple – Chantes
05 Undisputed – Sunglasses V.I.P.
06 Vato Gonzalez – Badman Riddim
07 N10 – Seasons [Remix]
08 Wittyboy Ft Wiley – Champagne (D.B. Remix)
09 Danny Scrilla & Tim Turbo – Song For Swjatoslaw III
10 Danny Scrilla – Funky Optimus Prime
11 Danny Scrilla – Strife
12 Footsteps – Worker
13 MPHO – Box N Locks (Ill Blue Remix)
14 Jason Lewis Ft Daniel Kaluuya – Too Many Wigs
15 BBK – Too Many Man (Danny Scrilla Remix)
16 Flux Pavilion – How Rude
17 The Others – Bazooka
18 Danny Scrilla – Ultra Violence
19 Rusko – Hip Hop
20 Dead Prez – Hip Hop (Danny Scrilla Remix)
Notes: Check out all the previous issues. Join the TTT group over here at Facebook. Subscribe to the podcast feed via RSS, subscribe via iTunes as an alternative and hit the subscribtion form for our newsletter. Book me by writing some real talk to: book.tim.turbo[at]seen-site[dot]com or check out my page in the Pink-Pong artist collective.
---

1 comment