posted on September 10th, 2010 by
Eve
in
Fashion
,
Mann´s World
,
Video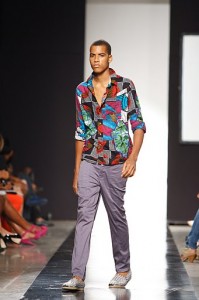 What do you get when you cross an agricultural student, a nationalist and a designer? I don't know either, but at some point in his life those labels stuck to The Cloth's founder/designer Robert Young. While the name Robert Young and The Cloth may not be as household as that of a Prada or Moschino there is no denying the quality, innovation and strict attention to detail demonstrated by the line, which would rival the more popular global counterparts. The name emerged from a clever play on words of Young's early fascination with the perks of the priesthood which at the time included a among other things a nice house along the Savannah in Port of Spain. Young states, "I am an artist that works with clothes." It is very easy to see this in his line, as many pieces (Jackets, jumpers, bags etc.) while very wearable feel suited to be framed and hung at a focal point to be a topic of discussion.
In 1986 Robert Young along with artists Nathalie Phillips, Adel Todd and Camille Selvon out of necessity began pushing the boundaries of the clothing technology available by working and reworking designs. Printing, painting and making meaningful garments that they felt that could not be replicated by anyone else. The women would later move on to other projects and school respectively. With over 24 years in the business it is safe to say that Young is an expert when it comes to his chosen craft of fashion, design and clothing, he loves african fashion trends. Admittedly Young says he "fell quite clumsily" into design. Moving from an agricultural at CXC to a Lab Technician, the birth of 'The Cloth' came about more from necessity and capitalizing on the Structural Adjustment measures placed on the island. During this period some Caribbean islands such as Trinidad and Jamaica had a ban placed on imported goods (clothing etc.) to save foreign exchange. Hence, citizens were only allowed to extract from the central bank approximately $200USD for travel per year. This gave many local industries the space needed to develop.
1997 Young had a show called 'No Chorus Yet'. This intrinsically meant, "I have no definite way of doing anything yet!" Watching his show one would find that very hard to believe. As over the years the Cloth has become known for its unique shows, like opting for a live band to play in the centre stage during a show. This years Caribbean Fashion Week was no different. While all other designers had their models stomping the runway to the sound of over played and meaningless tunes, models for the Cloth walked pensively to the sound of a river meandering the runway mimicking the flow of water. As Young admits, "I have always had a story but the (design) process came about clumsily."
At the end of the show instead of doing the customary walk of the designer trailing his designs Mr. Young had something more substantial than a wave and smile. Amid much microphone trouble the message was not lost. He said, "We cannot move forward if you don't buy your own". But how do we move forward? How do we move the Caribbean fashion industry from a third world odd ball to a first world fashion mainstay? Young confesses that it is not for his generation but for the ones coming up as much is currently lacking. Issues such as adequate capital to make economies of scale a sensible and profitable option or the ability to mass-produce to rival larger markets inhibit today's Caribbean designers.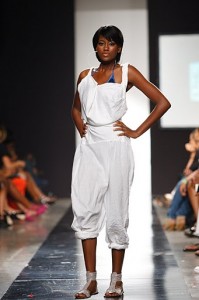 Instead we should first ask, "How can we get access (in our current state)?" Also, and possibly most important is, we must recognize that what we do has value. The smart options he presented were the development of high-end niche markets; develop interesting stories around our products, and ensure the quality is high. The key however is the reinvestment of profits and stemming the tide so common in industries in the Caribbean – that of flight of capital. What is needed is a revolution of the mind; in that we not only actively support local industries but in turn local employers pay staff better and where applicable explore the option of employees being part owners in the bran. Invest in real economies, instead of more abstract industries such as speculations and futures, thus minimizing the effects of a collapse of such unstable markets for example the Cash Plus/ Olint fiasco that still plagues Jamaica. The key for Caribbean islands is to build and or rebuild tangible industries thus creating real employment opportunities, instead of seasonal ones. Thus making a strong foundation for future generations and making it more attractive for present ones to invest, also there is a great need to harness the strength of the Diaspora through networking.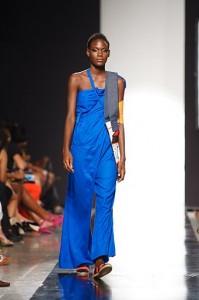 Young had a very pragmatic view of Caribbean leaders however, as he puts it "they are us." Essentially our government deals with problems as we would in our limited experiences they try to make the best of what they have. They act only when there are accidents; it is through these accidents that set the wheels of change in motion. However, across the board respective Caribbean governments can assist in the stimulation of local industries by charging fewer taxes or even negative taxation on goods made and owned locally. His advice to upcoming designers is priceless. That is, they need not be intimidated by the colonizing nature of fashion instead he encourages them to use life experiences to find new ways of doing things. Inspiration proliferates our rich history and culture for example Johnkanoo, Marcus Garvey and even more contemporary figures such as Bob Marley may be used to develop original points of views. In essence use them as practice until you find your footing.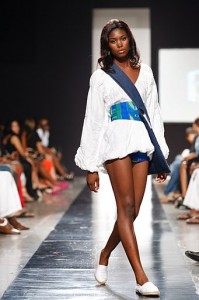 Finally, Yong cautions that while "fashion is a dream space" it can quickly become a nightmare when designers misread the context or do very little in analysis of the message that their garments convey. Therefore a well-made dress in good fabric can send the message that the wearer is a whore when it was not the intention of the designer. This is the result when we perpetuate ideas, which we do not understand, or have any practical use for (for example a winter line in a tropical marine climate). One of the more entertaining statements made by Young during the interview was; "If I could do what I want with these girls from Jamaica I would pull out all their weaves." While very hilarious to imagine, (and a dangerous road for him to venture-women here are very serious about their weaves) it strikes at the core of us as a people missing the bigger picture, in what is fashionable and the disconnect of who we are. We constantly miss the value and beauty that we already posses, opting to replace the tangible and beauty concentrated with flash.
With all that's said what other designers do Robert Young like? He mentioned Biggy because of his keen understanding of his niche. Japanese designers such as Issey Myake, Yohji Yamamoto and Comme des Garçons, his contemporaries who always seem to shine a new creative light on concepts we think we know. This year The Cloth celebrates 25 year of hard work and timeless designs (for example the T.V. Tee-shirt) Tsh5. Stop by their facebook page to see upcoming events and also to order must have pieces. For those in Jamaica the only place to get designs by the Cloth is Kerry ManWomanHome (1876-929-2096).



---

Leave a comment