posted on September 5th, 2009 by
Tobias
in
Design
,
Photography
,
SEEN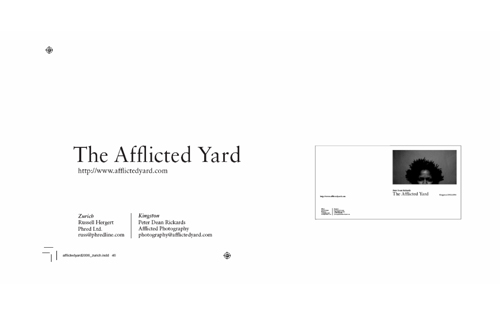 It was back in summer 2006 when Gabe and me first met with Peter Dean Rickards in Kingston, Jamaica. We sat down at the students´ union on Mona campus and when Peter left, I honestly couldn´t tell if he´s the madman some people think he is when reading his sometimes quite strange online output on the various Afflicted Yard online outlets or if he´s the mastermind you could think he is when looking at his actual work. Just to remind you: Peter was the first to stream music live from Jamaica ("Kingston Signals", anybody?), he was the first to convincingly capture contemporary Jamaican popular culture with a digital camera (the cover of Sizzla´s "Life" album, anybody?), and he was the first to publish a Jamaican magazine that met international standards – visually and content-wise.
What I definitely knew though was that we would have to work together. I ended up spending every single evening of my semester at Peter´s place in Barbican having beer and screening the photographs he had been taking from 2002 on. Our goal was to compile the most outstanding images and layout them in a way that would convince international publishers to put out a book – "The Afflicted Yard – Kingston 2002-2006″. Which we did.
However, it  hasn´t been published until today.
In the meantime, Peter has moved on from photography to videography – doing globally acclaimed productions for e.g. Terry Lynn and preparing the release of "The Last Don" – an incredibly entertaining documentary on the status quo of the Jamaican dancehall business. And while he keeps pushing things forward, he decided to release a PDF version of "The Afflicted Yard – Kingston 2002-2006″. For free.
---

2 comments