posted on December 17th, 2008 by
Tobias
in
SEEN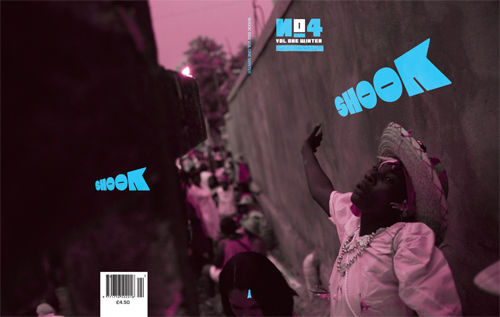 Now available in the seen. shop: issue 04 of Shook magazine. What you see is what you get:
Sound System Special – Shaka, Channel One, Coxsone… string up and dance
House Shoes – you can take a brotha out of Detroit…
Cumbiaton Explosion – Toy Selectah and Club Zizek
Manchester before the Hacienda – Greg Wilson and the Electro-Funk Bomb
Salah Ragab – Exploring the Magic System
Paul Beatty – The White Boy Shuffle
Clutchy Hopkins – Who Da F#@k is Clutchy Hopkins
Raymond Scott – The Name of the Game is Lightworks
Saut D'Eau – A Haitian Vodou Story
Morning Breath – Cover Me
Emory Douglas – The Art of the Black Panthers
Bomba: The Ruff Guide to Puerto Rico
Jazz Cats: The Harlem School of Jazz
plus… Q-Tip, Dâm-Funk, Onra, Crazy Couzins, The Invisible, Kaidi Tatham, London Jazz Festival, 45 Love, plus all ya regulars, reviews and raw vibes.
A perfect gift for lovers of good music and good music magazines. Note: All national orders until December 21st, will be shipped on time for Christmas.
---

Leave a comment