posted on September 15th, 2009 by
Tobias
in
Article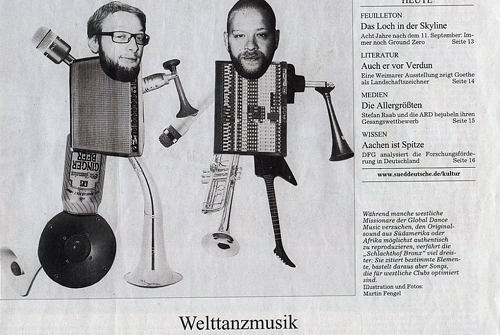 © Martin Fengel for Sueddeutsche Zeitung
New York Times: "Wycliffe Johnson, Boisterous Reggae Producer and Musician, Dies at 47″
Mr. Johnson's digital bass lines and graceful keyboard riffs invested mid-1980s dancehall — in its so-called computerized style —with melody, groove and an unmistakably human touch.
read the full article (via The Phoenix in a Gas House)
Jamaica Star: "Mavado´s Range Shot Up – Foota Hype Denies Involvement"
"… mi inna mi bed and hear 'bout four or five shot fire. Mi get up and go upstairs. Mi have three car park up and a just di Range (Rover) dem shot through and di Range neva do dem nutten," Mavado said.
Clark Magazine: The Afflicted Yard – Exprimer la Jamaique
"In a way, these photographs are an admission of my own desensitization, and by extension, the desensitization of the society in general."
read the full article (via Afflicted Yard blog) & don´t miss Peter´s latest sets: Candice McCella, Lacoste NYC
Guardian: Jamaica Police Release Image of Suspect in Consul´s Murder
Police investigating the murder of a British honorary consul in Jamaica have released an image of a man they want to question. The Jamaica constabulary force also denied reports that John Terry was the victim of a homophobic attack.
Sueddeutsche Zeitung: Welttanzmusik
"Was zum Teufel ist von einem Song namens "Arschboss" zu halten, in dem ein Rapper in unverhohlenem Bayerisch über einen hüpfenden Bassbeat den Mädchen Münchner Stadtteile ("East Schwabing", "Giesing Heiz" (sic!) und "New-Perl-a-ch") die wenig charmante Begrüßung "Die Ärsche bitte!" entgegenschmettert? Und darauf auch noch ein Mädchenchor antwortet: "Langts uns an den Arsch"?
read the full article (German) – thanks, Daniel for sending the scans!
---

Leave a comment