posted on October 17th, 2008 by
Tobias
in
Audio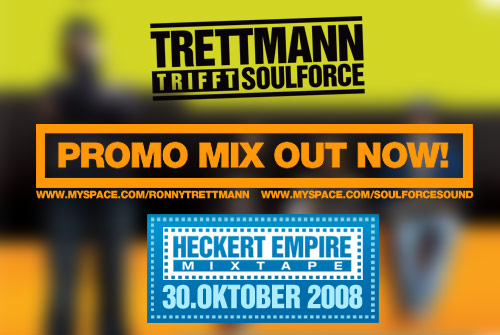 After collaborating with e.g. Tippa Irie and taking Jay-Z to Studio One, Soul Force teamed up with Germany´s number one mother tongue deejay Ronny Trettmann.
Their "Heckert Empire Mix" will hit the cold, dark and wet streets of this nation on October 30th and features all recent Trettmann hits like "Grossvater", "Krankenschwester" and "Wochenende", as well as a bag of SFclusive remixes and unreleased (auto) tunes.
Check the snippet and start saving your money. Heckert Empire take over. S'isso.
Audio clip: Adobe Flash Player (version 9 or above) is required to play this audio clip. Download the latest version here. You also need to have JavaScript enabled in your browser.
---

Leave a comment