posted on December 2nd, 2007 by
Tobias
in
Article
,
Fashion
,
Photography
,
Video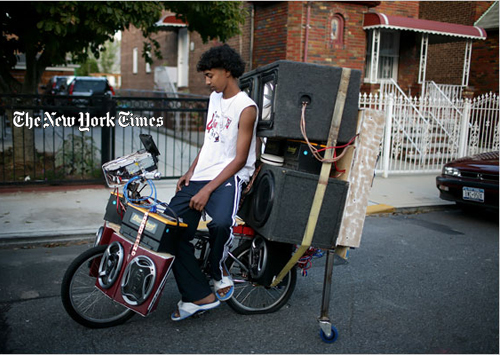 "People say, 'It's the next best thing to having a system in a car.' But it's better because you don't even have to roll down the windows."
I have to admit that recently I havent found the time to check the Times´ website regularly myself. Thanks god, there are enough people out there who do a good job in selecting the must reads. There are two of them this week.
One is "Bicycles That Carry Powerful Beats, and Even a Rider or Two" by Corey Kilgannon and the other one is "Setting the Beat, and the Style" by Ruth la Ferla.
The first article deals with youngsters that turned their bikes into mobile discothèques. Most of them have a Caribbean background and carry their homeland tradition of looking at music as a common good of the people for the people to the streets of Richmond Hills, Queens, NYC.
"Stephan Sonnylal, 17, worked on his yellow Mongoose motocross bicycle, bearing a 200-pound system, which features a 50-CD changer bearing a map of Trinidad. It puts out 3,000 watts of power and has three 10-inch speakers, a bank of midrange speakers and two tweeters. It cost $800, he said."
Read the whole article, look at more pictures and a short video here. (via De-Bug /BoingBoing)
The second article is on female DJs and their role of being the modern fashion icons.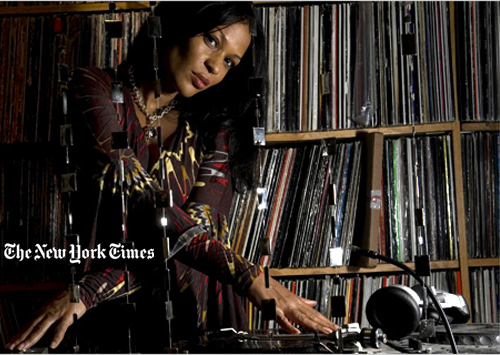 For her article, Ruth la Ferla interviewed a bunch of female DJs that currently rule the NY club scene.
"Today everyone is a D.J.," said Lindsey Caldwell, a native of Atlanta who plays an amalgam of '80s hip-hop, vintage Detroit sound and modern electronics Tuesday nights on the Lower East Side. "Just to be able to blend records is not enough anymore. You have to have a look."

"D.J.-ing is "all about self-promotion, about getting on somebody's photo blog," she said. "You have to play that game. Because nobody is going to take your picture for Lastnightsparty if you look regular.""
Find the complete story here. (via Oxy Cottontail)
P. S. You might have to register at the NY Times website to view these articles.
---

1 comment