posted on February 2nd, 2008 by
Tobias
in
Audio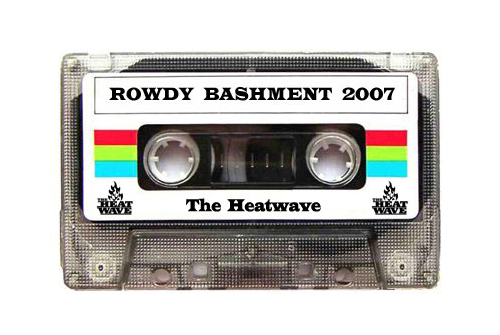 The Heatwave look back on 2007 with a wicked 68-minute bashmnet mix. Here´s how they describe it themselves:
Purely and simply, a mix of the hottest and hypest bashment to come out of Jamaica in 2007. Jamaican producers may be pressing less and less vinyl but the island still churned out around two thousand 7″ singles last year and these are our favourite rowdy ones.
See the tracklist and download link after the click.
Beenie Man – Mi Nuh See It (Voiceful – Black Jack riddim)
Chamelion – She Nah Answa (Voiceful – Black Jack riddim)
Sweet C – Hard Cock (Studio 2000 – Bug Out riddim)
Elephant Man – Stamina (Studio 2000 – Bug Out riddim)
Vybz Kartel – Translator (Black Pearl – Pearl Haaba riddim)
Bounty Killer – Mi Own Boss (Black Pearl – Pearl Haaba riddim)
Danny English – The Way You Move (Kirkledove – Dutch Pat riddim)
Mr Vegas – Tek Way U Self (Kirkledove – Dutch Pat riddim)
Macka Diamond – Hoolla Hoop (Hands & Heart – Bellevue riddim)
Elephant Man – Tic Toc (Hands & Heart – Bellevue riddim)
Dragz & Jus Bus – Rum Ram Riddim (Greensleeves/Just Kauz)
QQ – Tek It To Dem (Greensleeves/Just Kauz – Rum Ram riddim)
Tony Matterhorn – Start The Party (Don Corleon)
Elephant Man – Booty Clap (Black Chiney – Drumline riddim)
Monster Twins – Dem A Super Freak (B-Rich – Touch This riddim)
Kiprich & Leftside – The Tribute (Young Legends – Drop Draws riddim)
Leftside & Esco – Clothes Off (Young Legends – Drop Draws riddim)
Tony Matterhorn – Cockey Partner (Stainless)
Tony Matterhorn – Sidung Pon It (Seanizzle Records – Reverse riddim)
Beenie Man – Reverse Di Ting (Seanizzle Records – Reverse riddim)
Assassin – Boring Gal (Birchill – Stage Time riddim)
T.O.K. – Masculine Gender (Birchill – Stage Time riddim)
Tony Kelly & Christopher Birch – Heathen Riddim (Big Yard)
Shelly Thunder – The Gospel (Big Yard – Heathen riddim)
Shaggy – Heathen (Big Yard – Heathen riddim)
Ninjaman – The Pastor (Big Yard – Heathen riddim)
Mr Vegas & Overmars – Raging Bull (Greensleeves)
Natasha aka Natasja & Enur – Calabria 2007 (Ministry of Sound)
Cecile – Tell Me What Yuh Like (Jah Snowcone – Cheerful riddim)
General Degree – Elegant (Jah Snowcone – Cheerful riddim)
Busy Signal – Saviour Divine (40/40 – Swazzi riddim)
Beenie Man – Stamp Di Yard (40/40 – Swazzi riddim)
Erup – Fire Blazer (Hyperactive Entertainment – Super Natural riddim)
T.O.K. & Supa Hype – Tek It Off (Hyperactive Entertainment – Super Natural riddim)
Jam II – Jook A Gal Riddim (Jam II)
Wayne Marshall – Long Story (Jam II – Jook A Gal riddim)
Elephant Man – Jook A Girl (Jam II – Jook A Gal riddim)
Beenie Man – The Crime (Black Shadow – Bad Dog riddim)
Mad Cobra – AA (Black Shadow – Bad Dog riddim)
Wayne Wonder – Nine (Big Ship – Breaking News riddim)
Junior Cat – Sessions Affi Ram (Big Ship – Breaking News riddim)
Christopher Birch – Madness Riddim (Birchill)
Sean Paul – Pick It Up And Drop It (Birchill – Madness riddim)
Tami Chynn – Rude Boy (Birchill – Madness riddim)
Elephant Man – Three Step (Birchill – Madness riddim)
Audio clip: Adobe Flash Player (version 9 or above) is required to play this audio clip. Download the latest version here. You also need to have JavaScript enabled in your browser.
---

Leave a comment