posted on March 23rd, 2010 by
Tobias
in
Design
,
SEEN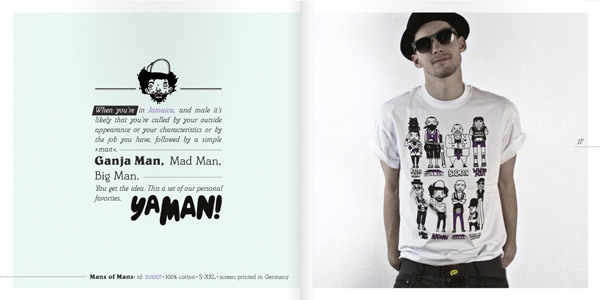 I'm continuing our one-week series of shameless self-promotion talking about another T-shirt design out of the seen. Spring 2010 Collection today: »Mans of Mans«.
For that design, Gabe picked a non-representative cross-section of Jamaica's noble society and turned it into a set of nine cartoon characters. From the upper left to the bottom right we got: Rastaman, Gunman, Bigman, White Man, Yellow Man, Madman, Badman, Shortman and Skinnyman.
Let us know in case you got too much money laying around – we'd love to turn them into vinyl toys (I would kill for Gunman and Yellow Man). Until then, you got to be satisfied with the »Mans of Mans« T-shirt.
PS: Check part one of a great interview with Darhil Crooks on Large Up – big man in (editorial) design!
---

Leave a comment