posted on July 21st, 2008 by
Tobias
in
Event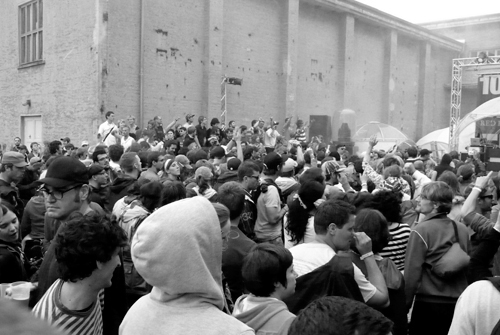 Puh. Back from Melt I want to huge up Daniel Haaksman and his Man Recordings team for setting up what was probably the best stage line-up at a festival I´ve seen in the past 10 years.
DJ Beware turned out to be the very right choice to open things up at 7pm on Saturday, filling the backyard he was playing in no time. From 25 to I guess 1250 people in about 1 hour. You know this means skills…
Unfortunately, heavy rain muffled the excitement a little so Gabe and me chose to get dry again watching Ms Platnum´s gig inside. Not a bad choice – she delivered a perfect live show backed by an amazing brass section and illustrated by wicked dancing routines.
Back at the Man Rec. stage, Edu K could then heat up things again, before Bonde Do Role had an ok appearance and Crookers totally tore things apart.
See some pictures over at flickr.
---

1 comment