posted on October 8th, 2008 by
Tobias
in
Event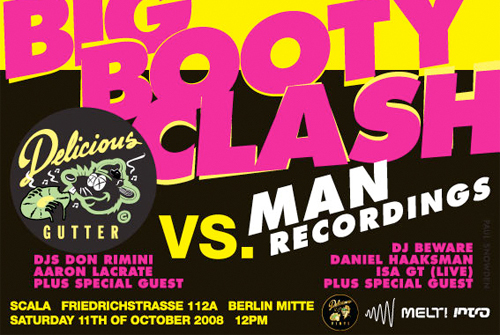 I told you already and I might tell you again: don´t miss "Big Booty Clash" – Man Recordings' first bashment after their Melt! festival extravaganza.
This is what label boss Daniel has to say about the Man Rec. vs. Delicious Vinyl ping pong at the Scala, Berlin:
We´ll rep with DJ Beware, our new signing ISA GT live and myself on the decks plus a very special guest. Delicious Gutter a.k.a. Delicious Vinyl will front with Don Rimini and Aaron Lacrate, plus the whole Delicious Vinyl crew. Maybe Young MC will come down too and some other well known people.
Doors open at 12pm.
P.S. Follow this blog with bloglovin´
---

Leave a comment