posted on September 19th, 2009 by
Tobias
in
Audio
,
Danny Scrilla
,
Event
,
Munich
,
Tim Turbo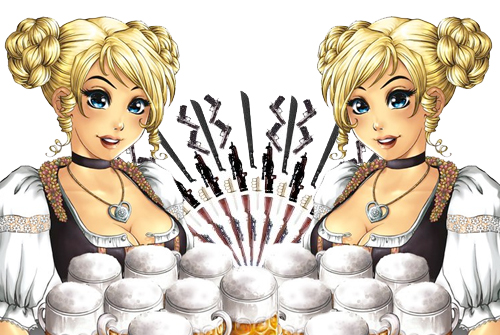 Dirndl © Marie Sann / Guns © Artemio
Yes, Munich, it´s that time of the year again: Oktoberfest kicks off today and will keep the city smelling like beer, pretzels, sex, schnaps & rock´n´roll for three weeks. Get your groove on everybody and warm-up with a little help of Tim Turbo, Kitt Flo and Schlachthofbronx:
Audio clip: Adobe Flash Player (version 9 or above) is required to play this audio clip. Download the latest version here. You also need to have JavaScript enabled in your browser.
Download seen. presents Tim Turbo X Kitt Flo Bauernschottisch Montagem
Audio clip: Adobe Flash Player (version 9 or above) is required to play this audio clip. Download the latest version here. You also need to have JavaScript enabled in your browser.
Download Schlachthofbronx presents "Mad Tings" Instrumental
Win a pair of guest list spots for Schlachthofbronx Release Party
Also make sure to not miss the definite party highlight of this year´s Oktoberfest season: Schlachthofbronx´s Album Release party featuring Mumdance, Joyce Muniz, Tim Turbo & Danny Scrilla at Club Rote Sonne on Saturday, September 26th. As we know that you´ll probably have spent all your dough on the "Veesn" when you arrive at the club totally wasted, we hand out a pair of guestlist spots. Just comment on this post until Thursday, September 24th, 10pm in order to take part.
seen. presents Veesn Party Guide:
19/09/09 Rote Sonne: Moonbootica, Ante Perry & DJ Flynn

19/09/09 Flashbox: DJ Martin Matiske

23/09/09 Ellie Disco: Awesome Munich feat. Jubilee, Niyi & Ben Mono

24/09/09 Erste Liga: DJ Chrome & DJ Functionist

25/09/09 Ed Moses: Joyce Muniz

26/09/09 Rote Sonne: Schlachthofbronx Album Release Party

01/10/09 The Bakery: Ralf Brück "Pain Is Weakness Leaving the Body" Vernissage

01/10/09 Rote Sonne: Benga
Also watch out for:
---

14 comments