posted on January 2nd, 2011 by
Tobias
in
Audio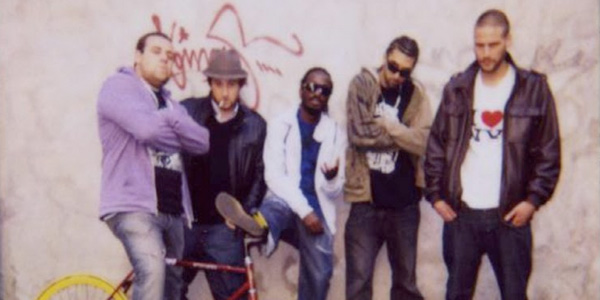 Tomorrow means going back to work for quite a few people I guess. Here are three Dancehall mixes to make your office return a little sweeter:
Soldier Sound – »Class of '99«.
The first one comes from Soldier Sound out of Switzerland. In edition two of their »Dancehall University« podcast series, they are looking back at the golden age of Dancehall and juggle nuff nice 90s and early 2000s tracks.
Dancehall University Podcast 2 "Class Of 99″ by Soldia Sound

High Noon Soundstation – »Forward When U Born In The 80s«.
The second one comes from High Noon Soundstation and features straight digital classics. Check the tracklist below and download the mix via Mediafire.
Intro
Robert Lee – Love me stylee
Shabba Ranks – Love punany bad
Solo Banton & Trevor Irie – Dancehall nice again
Thriller U – Juggling
Michael Palmer – Juggling
U Roy – Music addict
Horace Ferguson – Sensi addict
Lyrical – Punany expert
Lilly Melody – How u pretty so
Horace Andy – Love light of mine
Chuck Turner – We rule
Johnny Osbourne – We gonna rock it tonight (aka Dubplate playing)
Red Dragon – Chanter mi horse
Tullo T – Fantastic
Red Rose – Fat ting
Peter Metro – The Don
Patrick Andy – Sting me a sting
Chaka Demus – Original Kuff
Nitty Gritty – Me run tings
Half Pint – Level the vibes
Courtney Melody – Turn dem back
Robert Ffrench – She's under stress
Top Cat – Smoke mi sess
Pinchers – Bandolero
Sugar Minott – I love music
Bobby Melody – Original Melody
King Kong & Red Rose – Two big bull inna one pen
Echo Minott – Follow me
Tony Tuff – Cool it
Chuck Turner – Trying to conquer I
Professor Grizzly – Fight the professor
Shabba Ranks – Fresh
Lerroy Gibbons – Four seasons lover
Cocoa Tea – Girls go home
Chuck Turner – Run around girl
Tristan Palmer – Who's that girl
Lecturer – Hottest
Hippy Ranks – Girls want money man
Tiftam Crew – Version
Admiral Tibet – Serious time
Shabba Ranks – Get up, stand up & rock
Frankie Wilmott – I won't give up
Carl Meeks – Danger
Peter Culture – Dancehall music
Wayne Smith – E20
Lt. Stitchie – Labba labba
Tippa Lee & Rappa Roberts – Nuh trouble we
Carl Meeks – Weh dem fah
Selah Collins – Pick a sound
Super Black – Rising star
Al Campbell – Me rule
Manchez – Struggler
Tony Tuff – Careless people
King Kong – Serious me serious
Pampidoo – New body rock
Carl Meeks – Haul & pull up
Ashman – Hot like fire
Peter Metro – Mad man party
Dignitary Stylish – Don't touch the crack
Red Dragon – Commander
Lovindeer & Admiral Bailey – Run come come
Talking Robot – 5600119
Henkel Irie – Rub A Dub we want
Tiger – Robot
Little Lenny – Gun inna baggy
Outro
Glockwork Posse – »Dancehall Circus«.
Straight out of Bavaria comes to third mix by the everfresh Glockwork Posse: »Dancehall Circus« somes up their Dancehall highlights of 2010 and we are happy to find Ronny Trettmann's SEEN special on their as well. Nice 1!
Glockwork Posse – Dancehall Circus – 2010 by glockworkposse
---

10 comments