posted on December 3rd, 2009 by
Tobias
in
Audio
,
Event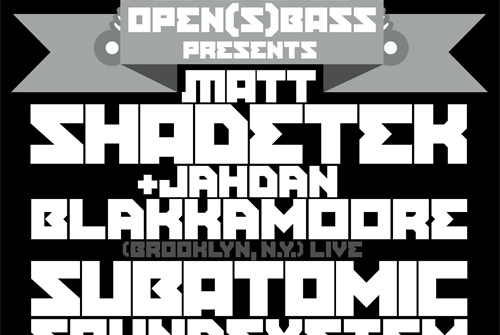 Open(s)bass is a loose alliance of "bass driven" music lovers. On December 10th, open(s)bass present an international heayweight line-up for the Vienna (Austria) audience:
LIVE: Matt Shadetek and Jahdan Blakkamoore (Dutty Artz, Brooklyn, N.Y.)
LIVE: Dubblestandart (Vienna)
Subatomic Soundsystem (Brooklyn, N.Y.)

Warm-Up: Dubster, Frutical Vibes Crew, Beda Ranks
Cool-Down: F!no, Rak3te, Odd
Doors of the Fluc Wanne open at 8pm. Admission is a very fair 6 or 8 EUR depending on whether you grab your ticket upfront or directly at the venue.
Further EU dates of Shadetek and Jahdan include:
December 11th: Desi, Nuremberg (GER)
December 12th: Kapu, Linz (AUT)
December 18th: Stadtgarten, Cologne (GER)
December 19th: Altes Wettbuero, Dresden (GER)
---

Leave a comment