posted on April 30th, 2008 by
Tobias
in
Audio
,
Design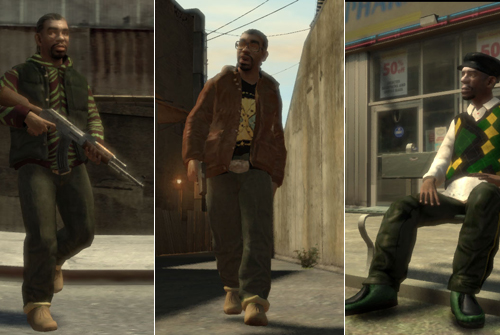 I have to admit that I´m not a gamer at all. However, I rate great design and I love good music. GTA IV seems to have both. You´ve probably read in this blog that Mavado delivered the soundtrack to the trailer. Today, Dancehall Mobi reports that
The final release of Grand Auto Theft IV also includes music from Bob Marley and son, Damian Marley (a duet called "Stand Up Jamrock"), as well as Munga Honourable's "No Fraid".
Nice. However, what I find almost more interesting, is that the people from Rockers NYC
had the opportunity to style two characters in GTA4, Little Jacob and Real Badman – Jamaican gangsters and gunrunners for the main character, Niko Bellic. Little Jacob can be seen wearing our Evil Heat hoodie, and keep an eye out for a vintage Rockers NYC "No Surrender" tee in the GTA4 mission "Jamaican Heat".
Check the picture above to see what a great job they´ve done.
---

2 comments