posted on March 16th, 2010 by
Tobias
in
Article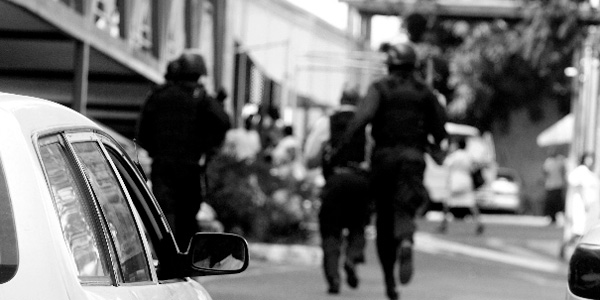 via FIRST Magazine
Yesterday, hell broke loose in West Kingston, Jamaica. At least that's the words the Jamaica Observer found to describe a shootout between the police and gunmen on the border of Hannah Town and Denham Town in the course of which two men were killed and three cops injured:
A team of police personnel was conducting an operation aimed at capturing Kelly and his cronies on the border of Hannah Town and Denham Town (Blount and Dumphries Streets) when they came under heavy and sustained gunfire from men locked in a house. Three policemen were injured when they tried to enter the house in question. The police also came under heavy gunfire from criminals perched on the roofs of surrounding high rise buildings.
In a quite debatable statement, Jamaica's opposition spokesman on national security, Peter Bunting, blamed the incident on the Government's refusal to sign an extradition request for West Kingston strongman Christopher »Dudus« Coke.
Just five days ago, The Economist had an article on the »American anger at Jamaica's slowness in handing over an alleged gang boss«:
Until recently the United States was pleased with the co-operation it was getting from Jamaica over the extradition of people accused of serious crimes. The Jamaican authorities were responding promptly to requests and, last year, sent 15 suspects to the United States. But the case of Christopher "Dudus" Coke seems to be different. The American authorities have become frustrated at what they see as foot-dragging by Jamaica's government over their request last August for the extradition of a man they say is the leader of an "international criminal organisation".
Read the whole story on The Economist website, and also don't miss to read »Tough inner-city realities«, a Gleaner article on the important role of
the existence of even one person in the home or at school who holds the child in positive regard, the provision of opportunities to demonstrate mastery (in the classroom, on the playing field and elsewhere), and positive adult and peer role models
to decrease the likelihood of young people turning to violent and ultimately criminal behaviour.
---

Leave a comment