posted on December 21st, 2010 by
Eve
in
Jamaican Style
,
Mann´s World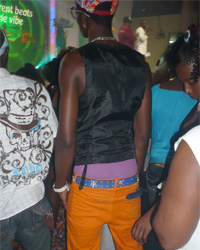 Some days I feel like Rip Van Winkle. I fell asleep for too long and woke up in a strange time warp where nothing makes sense. To be honest I feel like that old man shaking his fist saying, 'Hey you crazy kids turn that garbage off and pull your pants up!'
There is this phenomena set to music by Beenie Man and further defined by Dr Imani Tafari-Ama [Blood Bullets and Bodies: Sexual Politics Below Jamaica's Poverty Line, 2006, Chapter 6, pages 219-220] that I grossly need help understanding. That is, the phenomena of the Chi Chi Badman. Tafari-Ama states;
In most every way, these Chi Chi Bad Men or bad Chi Chi Men are the ultimate binary opposition to emerge from the concrete jungles of Kingston's urban slums… No sociologist was able to predict that the product of the most violently antagonistic and consistently anti-homosexual discourse in the ghetto – the bad boy gunmen- who are supposedly the very antithesis of anything queer, gay or funny, would suddenly and voluntarily switch their sexual orientation to become the very kind of persons that they had previously hated so passionately – batty men. [...] In effect, they have become lower class male prostitutes who service upper class gay men for top dollars.
Usually the inner-city male is seen as the epitome of the Jamaican version of the macho man. Further more there is on other group in Jamaica so vehemently intolerant and opposed to the homosexual lifestyle than that of the Jamaican Shotter/Inner-city male. If you still subscribe the ideal male figure projected in songs from independence to present he is a very strong classically masculine figure constantly facing and overcoming the pressures of being male and underclass. Therefore, the phenomenon of the effeminate badman is an unforeseen paradox of our time. One is very amazed when observing these "men"; bleached faced, very arched eyebrows dressed in pastels that the girliest girl gravitates to because it totally expresses femininity.
Not to mention the very close fitting female jeans worn strategically below the rump by these men. It gives the feeling of an advertisement of easy access rather than to convey the notion of strong, hard male protector. While generally the idea of a homosexual male is usually that of a tame, fragile, extravagantly flamboyant, RuPaul- esque male, however, today this is definitely not the case with the Chi Chi Badman and no better description could be found than that postulated by Ama in which she states;
Make no mistake about it. These new inner-city Chi Chi Boys are not your ordinary tame and domesticated/sophisticated kind of homosexuals. These are not the poor, defenseless and victimized Jamaican homos whose cause the British gay group Outrage! likes to champion. No, these Badman Chi Chi Boys are tough young killers who can defend themselves and who will not hesitate to shoot or cut up anyone trying to criticize or mock them for their decision to embrace this still distained lifestyle.
– First post of a 3-part piece by Eve Mann. Orginally posted on her blog The Phoenix in a Gas House.
---

Leave a comment